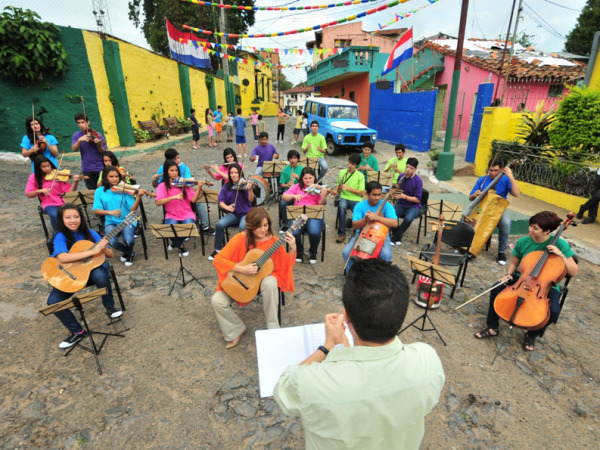 Photo Credit: July, 2013 in Barrio San Jeronimo, Asuncion, Paraguay (Photo/Zenoura) via NBCLatino
Multi-award winning Berta Rojas is not only one of the top classical guitarists in the world…

Her new album "Salsa Roja" was released globally this week, paying tribute to her beloved Latin America. But what makes this collection of classical pieces extra special is the collaboration with the Recycled Instruments Orchestra of Cateura — or Landfill Harmonic Orchestra — a 19-member ensemble comprised of children from Asunción, Paraguay who perform using instruments they have built from garbage. Presently, Rojas is also working to design what she hopes will be the Cateura Music School, the town's very first music school with real instruments.

"What happened to these kids was a miracle," says Rojas, who is also originally from Asunción, but has been based in Washington, DC for the past 15 years. "This used to be a completely forgotten area in Paraguay — the parents of these kids are garbage collectors, and thanks to this program kids have a voice, and thanks to them the area will no longer be forgotten. We invited them to play on our CD is a symbol of our relationship of love and admiration."

READ THE FULL ARTICLE via Classical guitarist brings real instruments to Paraguay's "landfill" children's orchestra, changes lives.