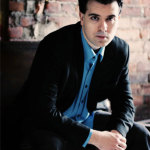 Fun arrangement of this classic guitar work by Paraguayan composer/gutiarist Agustín Barrios (also known as Agustín Barrios Mangoré, 1885–1944). This is an arrangement of the 3rd movement (Allegro solemne) of La Caterdral played by Julien Labro & the Spektral Quartet. When bandoneon gets in there I can't help but think Piazzolla!

Video Link: http://youtu.be/pHbT5STaArY
If you don't know the original guitar version here is Berta Rojas playing the Allegro Solemne from La Catedral by Agustin Barrios.

Video Link: http://youtu.be/5f-hRRqyVBE