Canarios by Gaspar Sanz (1640-1710). PDF sheet music arranged for classical guitar. This comes from my edition Gaspar Sanz Guitar Collection Volume 1 which includes Villanos, Fuga, Españoletas, La Cavalleria de Nápoles con dos Clarines, Las Hachas, and Canarios. Includes both a notation-only edition and a tab edition. Level: Mid to Late Intermediate Grades 3-7. Here's the YouTube video link if you want to watch it there.
These popular works by Gaspar Sanz (1640-1710) originate from his Instrucción de música sobre la Guitarra Española for Baroque guitar. Sanz was a "Spanish composer, guitarist, and priest from Calanda in the comarca of Bajo Aragón, Spain. He studied music, theology and philosophy at the University of Salamanca, where he was later appointed Professor of Music. He wrote three volumes of pedagogical works for the baroque guitar that form an important part of today's classical guitar repertory and have informed modern scholars in the techniques of baroque guitar playing…His compositions provide some of the most important examples of popular Spanish baroque music for the guitar and now form part of classical guitar pedagogy. Sanz's manuscripts are written in [Italian] tablature for the baroque guitar." Read more at his wiki.
The specific works in this collection are also the basis for the 1954 Joaquín Rodrigo guitar concerto Fantasía para un gentilhombre using themes from these works. A degree of arranging for modern guitar has taken place, including adding the sixth string of the modern guitar to complete logical musical lines. Besides that I have tried to keep to the original as often as possible adding no additional notes.
Original Baroque Tablature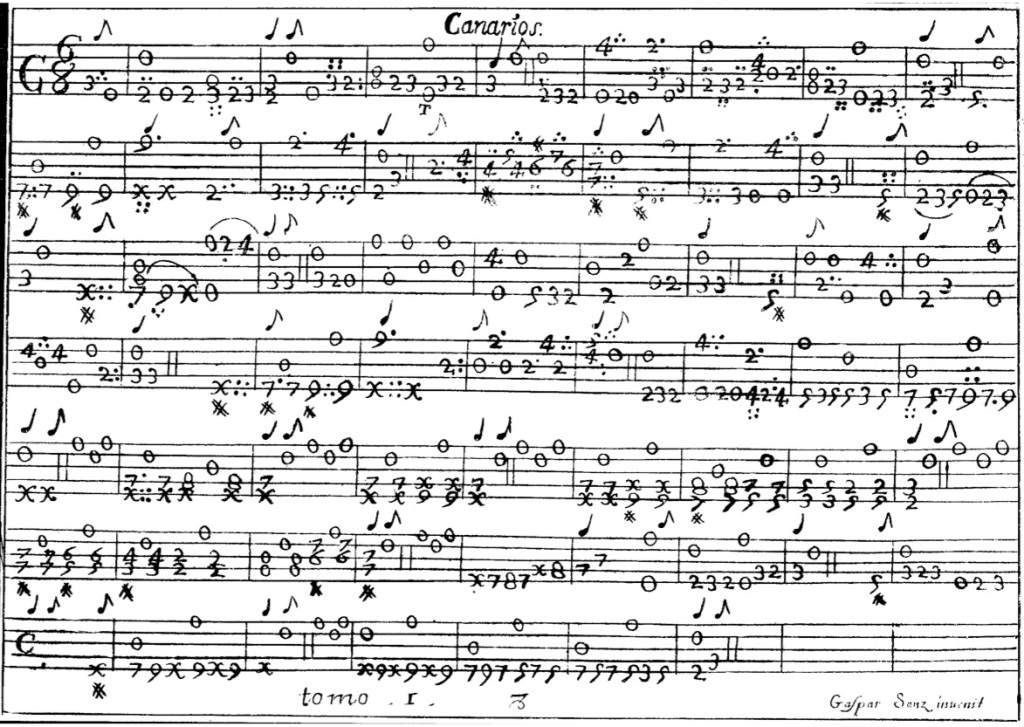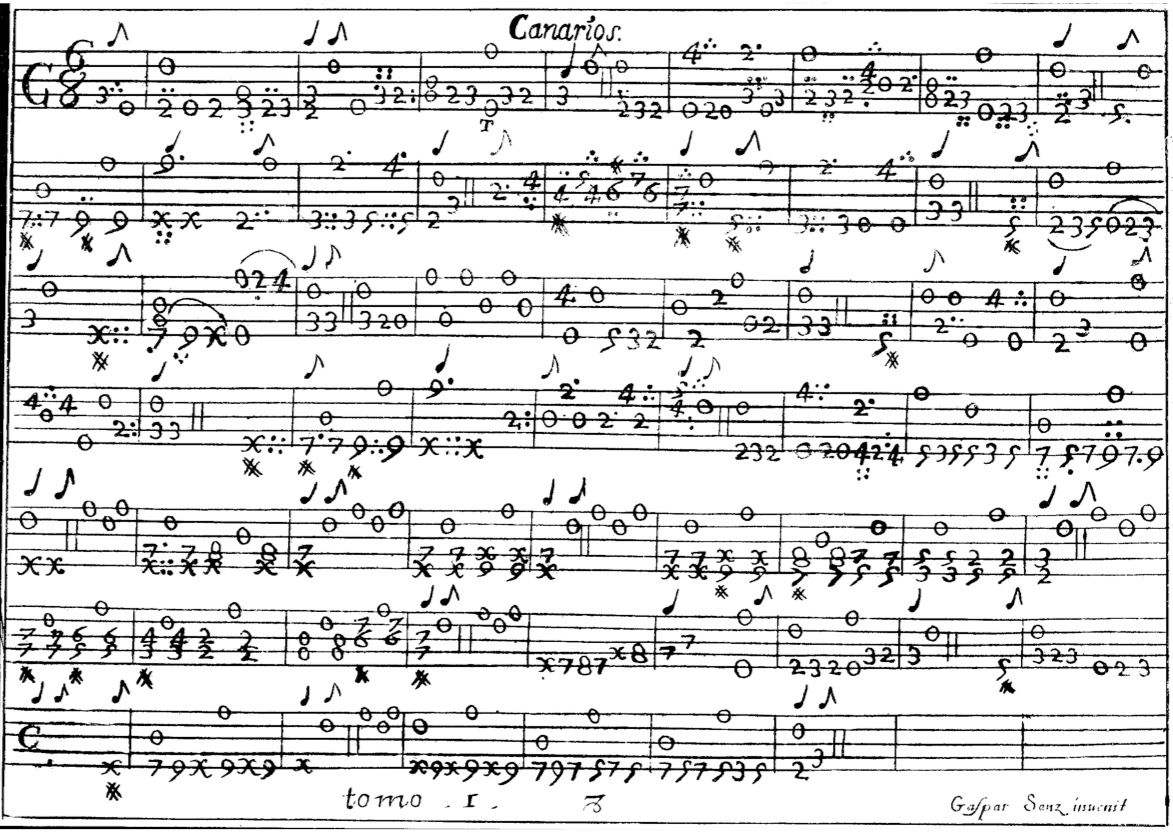 More Performances of Canarios
Swedish guitarist Johan Löfving performs Canarios by Gaspar Sanz (1640–1710) on baroque guitar. This comes via his fantastic Youtube Channel. Great to hear Sanz on Baroque guitar where the strummed chords sound so at home. Brilliant performance by Löfving with his usual mix of amazing energy and phrasing. I was just talking about this work in a lecture I did on transcribing early music for Classical Guitar Corner. A lot of arrangements from the 20th century really beefed the piece up for modern guitar but nothing beats the original with its light, fast movements and leaps and jumps in the motifs.