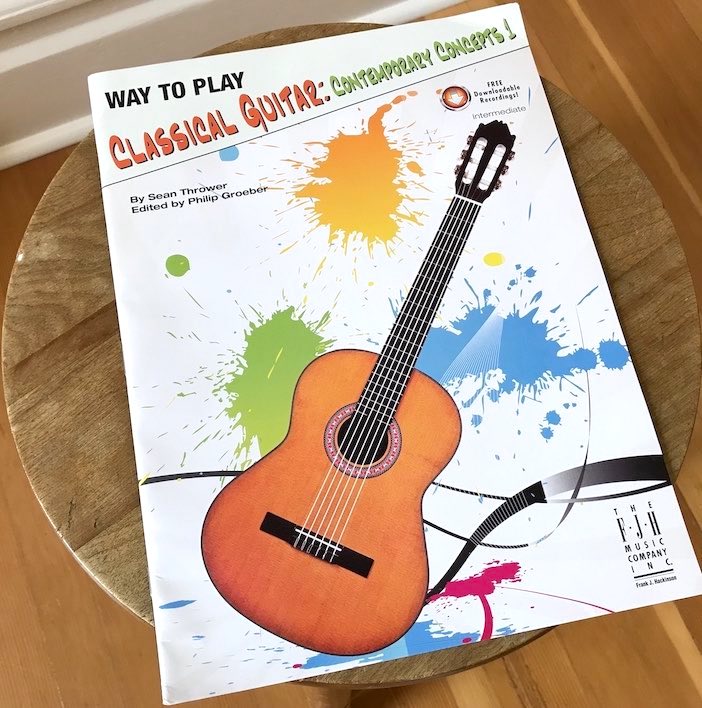 Classical Guitar: Contemporary Concepts 1
Way to Play Guitar Series by FJH Music Company
by Sean Thrower and Edited by Philip Groeber
Buy the book via FJH Music or Amazon
I was happy to receive this copy of Sean Thrower's new book Classical Guitar: Contemporary Concepts 1 which includes nine pieces at the intermediate level. The pieces introduce students to a wide variety of techniques that prepare them for the eclectic nature of the modern classical guitar repertoire. I've reviewed two other releases from Thrower, Traversing the Fretboard and The Segovia Scales, both solid books for those who want some lessons combined with notation and tablature.
At the front of the book there are mini lessons for each piece introducing concepts and musical elements such as rasgueado, closed and open chord voicing, inversions, glissandi, parallel motion, form, pedal points, harmonic rhythm, harmonics, modes, syncopation, tertian harmony, tremolo, and more. Think of this book as a hands-on introduction to techniques and textures. It doesn't dive deep into the theory and technique lessons but it does give students a taste of the concepts. So it's not a method book but more of a primer before further study. Don't expect to master or fully understand all the ideas but use the book to gain some insight and get inspiration before moving on to a more comprehensive study. The main strength of the book is that the pieces emphasize these elements in playable intermediate pieces.
The pieces sound modern but very listenable for general audiences, I quite like a number of them. They are generally very playable and don't offer much awkwardness which makes for good etudes for students. Keep in mind that some of them are at the later intermediate level in terms of coordination, not awkward but still challenging. I appreciate how focused the works are as etudes as they stick to one or two techniques or musical concepts per piece.
I wish the book also had the pieces in notation-only since I generally don't use tab with my students. I appreciate that tab is needed for book sales and many people want it but I'm a big advocate of including both which adds only a few extra pages. That said, many people will appreciate the tab as the reading does utilize the entire fingerboard for some pieces.
The guitar world is filled with great amounts of education materials for beginners and great repertoire for advanced students. However, the intermediate level could still benefit from more practical music for students and this book fits nicely into that category.
From the Publisher
Each of the nine pieces is meant to introduce the intermediate level guitarist to a variety of techniques, compositional ideas, and musical influences. Prepare for each piece by reading the text and practicing any accompanying examples in the "About the Music" section. Use the Free Downloadable Recordings as a reference to ensure that you are capturing the right feel and expression.