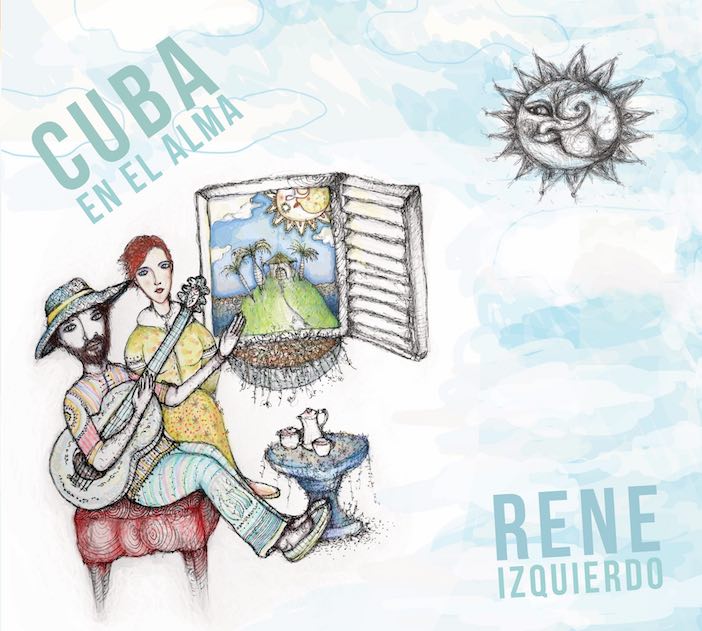 Cuba en el Alma by Rene Izquierdo
Co-produced by Uros Baric and Matthew McAllister
2020 Baros Records
Learn, Listen, or Buy: Cuba en el Alma by Izquierdo
Great to see this new release from the excellent Baros records and Rene Izquierdo. Cuban guitarist Rene Izquierdo graduated from the Conservatory and Institute of Art in Havana. In the United States he earned a Master of Music and Artist Diploma degrees from the Yale University School of Music. He's also studied with many of the composers from this album. He's now a professor of classical guitar at the Wisconsin State University in Milwaukee and an active solo performer and chamber musician. One of the great performing artists in the classical guitar world! Check out the great little video about the album below.
Cuba en el Alma is an all-Cuban album with excellent repertoire and arrangements. It features a selection of works by Leo Brouwer, Ernesto Lecuona, Eduardo Martín, Sindo Garay, José Antonio (Ñico) Rojas Beoto, Carlos Rafael Rivera and Manuel Saumell. The album was recorded at the Cathedral of the Isles, Great Cumbrae, Scotland just before the annual Classical Guitar Retreat. Beautiful recording quality in the cathedral with a warm and natural sound (as always from Uros Baric and his Baros Records). It's good to see Rojas, Guerra, and Fariñas' work on the album as they deserve much more credit in the classical guitar world. Guerra and Fariñas have numerous works and I've read through some amazing duets by them as well.
The album is filled with charming sounds and rhythms of Cuba and some very engaging compositions for classical guitar. I can't imagine a more pleasing and interesting album for any listener. Izquierdo's playing perfectly suits the repertoire with a virtuosity that enhances the music without ever taking away from his rhythmic groove, motivic clarity, and flowing phrasing. I get over-saturated with guitar and rarely listen to guitar music, but this is an album that I'll play for personal enjoyment, the repertoire, and the wonderful performances.
I love his refined performance of Brouwer's Preludios Epigramáticos but I was also delighted by his groovy and laid back feel on works such as Martín's Son del Barrio. Martín has some nice pieces and also easy collections for students that many readers will want to explore. The Barrueco arrangements of Lecuona are very cool works and Izquierdo creates a tightly articulated texture that is both impressive and fun. I'm embarrassed that I didn't know much about the work of Ñico Rojas who is an important guitarist and Cuban musical figure. Great little pieces that blend jazz and popular melody (filin) into full sounding guitar solos. Another important composer, Manuel Saumell was a strong influence as a cultivator of Cuban music in the 19th century and the Cuban contradanza. Saumell wrote over fifty contradanzas and these arrangements by Jesus Ortega (expanded and revised by Izquierdo) work incredibly well on guitar.
Summary
Cuba en el Alma by Rene Izquierdo is filled with beautiful performances of Cuban music by one of the world's greatest guitarists. From charming Cuban rhythms to engaging virtuosic compositions, this album will delight general listeners and music critics alike. A must-listen for classical guitarists not familiar with the diversity and high quality of Cuban music for classical guitar. Very enjoyable and highly recommended.
Repertoire
Eduardo Martín (1956): Son del Barrio; Mirándote
Ernesto Lecuona (1895-1963), arr. M. Barrueco: La Comparsa; Danza Lucumí
Sindo Garay (1867-1968), arr. R. Guerra: Perla Marina
José Antonio (Ñico) Rojas Beoto (1921-2008): Jazmín de mi Casa; Dulce y Alfonso
Carlos Rafael Rivera (1970): Whirler of the dance
Carlos Fariñas (1934-2002): Preludio; Canción Triste
Leo Brouwer (1939): El Decameron Negro; Preludios Epigramáticos
Manuel Saumell (1818-1870): Contradanzas