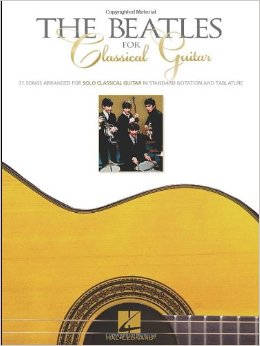 This is a very popular book among my students and myself. The arrangements are great and perfect for intermediate students and for gigs too. The book includes notation and tablature (TAB) and are not often more than two pages per song. The simplicity of the arrangements yet full sound once realized is what I like best. Are these the very best arrangements? Well, depends what you are looking for, they are perfect for students and gigs but I suppose a bit minimal for stage performances and pros. They are fun though… Songs include: All My Loving * And I Love Her * Can't Buy Me Love * Fool on the Hill * From a Window * Hey Jude * If I Fell * Let It Be * Michelle * Norwegian Wood * Ob la Di * Ticket to Ride * Yesterday * and more.
Buy or View the Sheet Music via Amazon:
The Beatles for Classical Guitar (Notation & TAB)
-early intermediate to late intermediate
Also see my page for Gig and Student Works, this page will always include videos. For a larger selection of all the sheet music I recommend please visit the Sheet Music Page.
Eleanor Rigby Video Link: http://youtu.be/VJP58A-3SMY
Norwegian Wood (This Bird Has Flown) Video Link: http://youtu.be/LrvPwRZGdSo