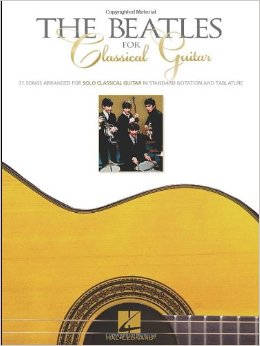 The Beatles on classical guitar (books, sheet music, tab, videos). Just as classical pieces often have a melody and accompaniment, arrangements of The Beatles on classical guitar provide great melodies and accompaniment to recreate these well known songs. Below are some lists of books and videos that specifically arrange The Beatles for classical or fingerstyle guitar. The recommended ones I have used with my students and work well. I'm not saying they are the most amazing arrangements but they won't take years to learn and provide a nice solid melody and very workable accompaniment all for solo guitar.
Highly Recommend Beatles Arrangements, Sheet Music, TAB for Guitar
The Beatles for Classical Guitar (Notes and Tab) – Recommended. Intermediate. These are great little arrangements but are firmly in the intermediate level. I love the arrangement of Norwegian Wood in this book.
Easy Beatles Arrangements (Notes/TAB) – Recommended. These are significantly easier than the above book but are still very full sounding.
More Good Books
High Profile Arrangements by Composers
Videos of Classical Guitarists Playing the Beatles