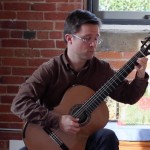 Españoletas by Gaspar Sanz (1640-1710). This is a sheet music reference video for my new PDF eBook. I'll be making videos for each one as promo material and of possible help to students. You can follow the link below to learn more.
Gaspar Sanz Collection ($8.99)
Arranged & Edited for Classical Guitar by Bradford Werner
PDF includes two editions. Notation Only followed by Notation + Modern Tablature.

Video Link: http://youtu.be/j8_6OAkyHjc