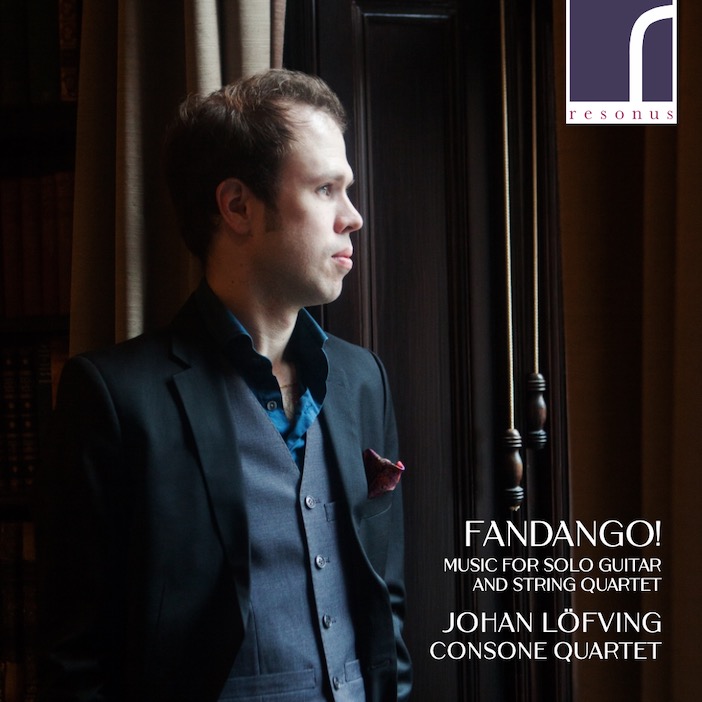 Fandango! Music for Solo Guitar and String Quartet
Johan Löfving (guitar) & Consone Quartet
2020 Resonus
Listen, Learn, or Buy: Resonus, Amazon, iTunes, Spotify.
I've featured Swedish guitarist Johan Löfving a number of times so it's great to hear his new album. He's joined at the end by the Consone String Quartet and castanet player, Nanako Aramaki, for Boccherinl's fourth guitar quintet. It's an exciting programme of Romantic guitar repertoire framed by two fandango movements showcasing the influence of Spanish folk music.
When I was younger my guitar heroes were John Williams (for refinement), Julian Bream (musicality) and Kazuhito Yamashita (extroverted creativity), but I can add Johan Löfving as one of the modern players that combine their abilities with the new level of playing we are seeing today. Löfving is a real inspiration in terms of playing style. The thing I love about this album and his playing is his ability to go from sweet and refined sounds to completely extroverted extravaganzas. He is fearless and yet controlled. This is evident from the first track with his performance of Aguado's Fandango Variado, Op.16. He showcases some beautiful phrasing and really ramps up the excitement while going through Aguado's variety of rhythms of the fandango. Same goes for his interpretation of Giuliani's Sonata Brillante, Op. 15 where he shows a wide range of articulations and dynamic contrasts all wrapped into refined classical phrasing. I absolutely love his performance of Regondi's Introduction et Caprice, Op. 23 where he showcases his virtuosic abilities. His smooth musical lines of the introduction contrast so deeply with his final displays of virtuosity and unreserved fanfare during the caprice. He really opens up the work, brilliant!
Fantastic recording of Boccherini's Guitar Quintet No. 4 where he's joined by the Consone Quartet and the castanet player Nanako Aramaki. The quintet is a wonderful way to end the album and bridges the listener into a larger musical world that included the guitar. The final Fandango is amazing and you'll never want it to end. If you've seen my many features of Löfving and his playing in Flauguissimo Duo you'll know chamber music is clearly close to his heart and it's easy to hear on this album.
Löfving is playing an original French Tribout, 1850 (anonymous) guitar restored by James Westbrook. The sound of the recording is fairly live and natural which I really appreciate. Recorded at Trinity Church, Weston, Herordshire, with some distance and room ambience but lots of clarity too. From warm silky tones to clear and glassy articulations, the recording allows plenty of room for Löfving's large dynamic and aesthetic range. So big shout out to producer and engineer John Taylor and to executive producer Adam Binks.
Summary
Fandango! Music for Solo Guitar and String Quartet by Johan Löfving has charm, refinement, and virtuosity all wrapped into one album. Sweetly arched phrases to sharp articulations are beautifully played on a 19th century guitar. After a number of engaging solo performances Löfving embraces Boccherini's quintet in top form. General listeners and critics alike will praise the performances for their musical creativity and refinement. Löfving's ability to fearlessly give it his all while maintaining the musical phrase makes the album exciting and irresistible. Highly recommended and clearly one of the best albums and players of recent times.
Repertoire
Dionisio Aguado (1784–1849): Fandango Variado, Op. 16
Mauro Giuliani (1781–1829): Sonata Brillante, Op. 15
Napoléon Coste (1805–1883): Les Soirées d'Auteuil, Op. 23
Fernando Sor (1778–1839): Étude Op. 31, No. 10
Giulio Regondi (1822–1872): Introduction et Caprice, Op. 23
Luigi Boccherini (1743–1805): Guitar Quintet No. 4 in D Major, G. 448