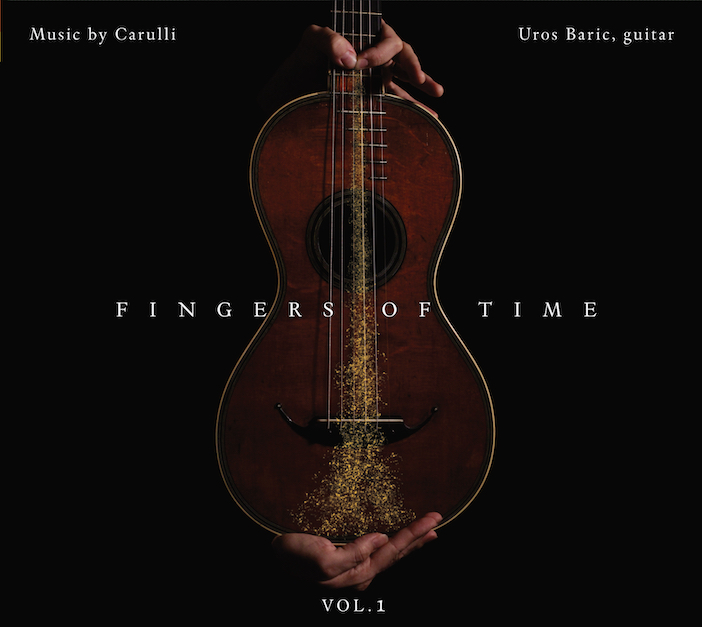 Fingers of Time Vol. 1 & 2 by Uros Baric
Recorded, Produced, and Performed by Uros Baric
2018 Baros Records
Learn More, Listen, or Buy: Fingers of Time Vol. 1 and Fingers of Time Vol. 2
Great to hear the release of two new albums by the amazing Slovenian guitarist Uros Baric. If you follow the site I'm sure you've seen his name pop up with his various high quality projects such as the recent Virtual Guitar Orchestra or the various albums he's recorded via his label. You can check out his personal website, lesson site Guitarise, and his record label Baros Records featuring artists such as Matthew McAllister, Marko Feri, himself, and more.
Fingers of Time Vol. 1 & Vol. 2 features the music of Ferdinando Carulli (1770-1841) performed on an original 19th century instrument. Baric is playing a beautiful Petitjean à Mirecourt guitar (c.1810) with Aquila 800 Ambra strings. It's great to finally have a professional recording of these Carulli works played on a period instrument. I love the mellow quality of 19th century guitars. That plucky, woody sound balances and equalizes the guitar tone allowing me to hear the writing in a new light. I have similar realizations when I hear Mozart on fortepiano. Baric's attention to musicality and gentle touch give this album a thoughtful and special charm. Students should listen carefully to his control over the form of the works and the musical ideas and dynamic shaping he uses to craft and delineate the phrases. With care and attention these little works can really blossom. I find Baric incredibly inspiring in all the things he does, he always gives his full attention and care to every project.
As Baric mentions in the below video, he's been playing some of these works since he was ten years old but revisiting them over the years one hears them in new emotional, historical, and musical ways. That has also been my experience with Carulli. When I was younger I loved the activity and playability of Carulli's works but in college I regulated him to a composer of student works. However, after more music study, listening, and maturity, I've grown to appreciate Carulli as one of the great classical era guitarists and composers who interacted and engaged with the time. His arrangements of great composers and range of solo works at various levels is astonishing. Plus, compared to many of his contemporaries, each piece by Carulli is well crafted and has its own charm. He wrote over 400 solo works and yet he is recorded by professionals so little. Vol.1 features Carulli's 24 Pièces, Op. 121, and Vol. 2 includes Grand recueil de morceaux progressifs, Op.333 and Four Rondos from Op. 241 and Op.40.
Fingers of Time by Uros Baric is filled with charm, grace, and beautiful musicality. Hearing this music on a period guitar with pristine recording quality and thoughtful performances brings Carulli's music to life. Baric's playing is top notch as he navigates exquisite phrasing, musical shaping, and thoughtful articulations. Another great project by one of todays very special artists.
Here's a beautiful video he posted about the album.
Make sure to subscribe to his YouTube channel where he's been performing a new piece from the album everyday. He also posts other performances, reviews, recording tutorials, and more. Here are just two performances of works from this album.