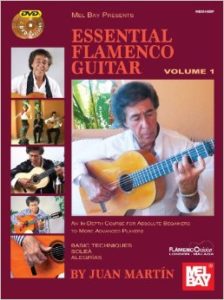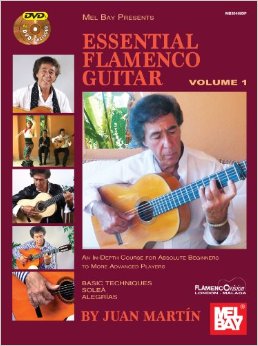 Flamenco guitar is a great way for students to learn some additional techniques and I believe it is also beneficial to the right hand position overall. Plus, it can be great fun and less pressure than multi-voice classical music so offers a break.
There are tons of great books out there but I have a few books I regularly use with my students. These books offer beginner and intermediate students a first taste of flamenco. I recommend you finish my two method books first though as these books really dive in fast. The below links go to Amazon to buy or learn more.
Recommended Flamenco Guitar Books
Play Flamenco Guitar with Juan Martin (Notes/TAB) – These are great. They are graded solo pieces that slowly teach you the different styles, rhythms, and dances. Plus his DVD will teach you some authentic ideas about the culture. It's really just songs but you learn gradually as you go.
Publisher's Text: "Designed as a comprehensive multimedia teaching set, this book, CD, and DVD present 42 solos, progressively graded in 6 levels from absolute beginners to more advanced, to suit players of all levels. It contains examples of eighteen different palos (rhythmic forms) of flamenco, with a wealth of melodic falsetas and rhythms. The music for all these is accurately written in notation and flamenco tab (cifra) in the book, and is also recorded on the companion CD. The DVD video contains over 57 minutes of solo music, and also includes introduction by Juan Martín and brief scenes of Andalucia today, which help to place this profoundly exciting and deeply felt music in the landscape of its origins. Juan Martín has succeeded here is showing how even music which is simple and very easy to start with can express the essential sound and emotion of flamenco, to build step by step the skills necessary for the performance of concert solos. Written in English and Spanish."
Essential Flamenco Guitar with Juan Martin (Notes/TAB) – This is his method style book so there are explanations and exercises. You might want to start here if you don't have any experience.
Publisher's Text: "This book and accompanying video provide a thorough introduction to flamenco guitar. What are the essential elements and techniques of flamenco guitar playing? How does one capture the real essence of authentic flamenco guitar? These are questions that Juan Martin, celebrated virtuoso flamenco guitarist and teacher, addresses in this first book of a projected three-volume series. The method is designed for the complete beginner and requires no prior knowledge of the guitar or flamenco music. It also provides invaluable insight and material for more advanced players who want to capture the essential sounds, rhythms and emotional power of true flamenco.The series begins with in-depth demonstrations of how the basic building blocks of flamenco guitar technique are used in actual flamenco music. The material then progresses to a detailed exploration of the individual rhythmic forms – the palos. In this book, the fundamental palos of Solea and Alegrias are presented to emphasize the basic rhythms and provide examples of falsetas – the melodic passages. Martin then shows how to apply these when collaborating with a dancer and singer. The music is transcribed in standard notation and tablature (cifra), and the two DVDs contain over 3.5 combined hours of explanation and demonstrations."
Hal Leonard Flamenco Guitar – This is pretty basic as with all Hal Leonard publishing but it's actually a great value and more modern of a book than the Martin above. Very accessible and very affordable.
Publisher's Text: "Here's your complete guide to learning flamenco guitar! This method uses traditional Spanish flamenco song forms and classical pieces to teach you the basics of this style and technique. You'll learn to play in the style of Paco de Lucia, Sabicas, Nino Ricardo and Ramon Montoya. Lessons cover: strumming, picking and percussive techniques; arpeggios; improvisation; fingernail tips; capos; and much more. Includes flamenco history and a glossary, and both standard notation and tab. The book also includes online access to 58 professionally recorded tracks for demonstration and play-along."