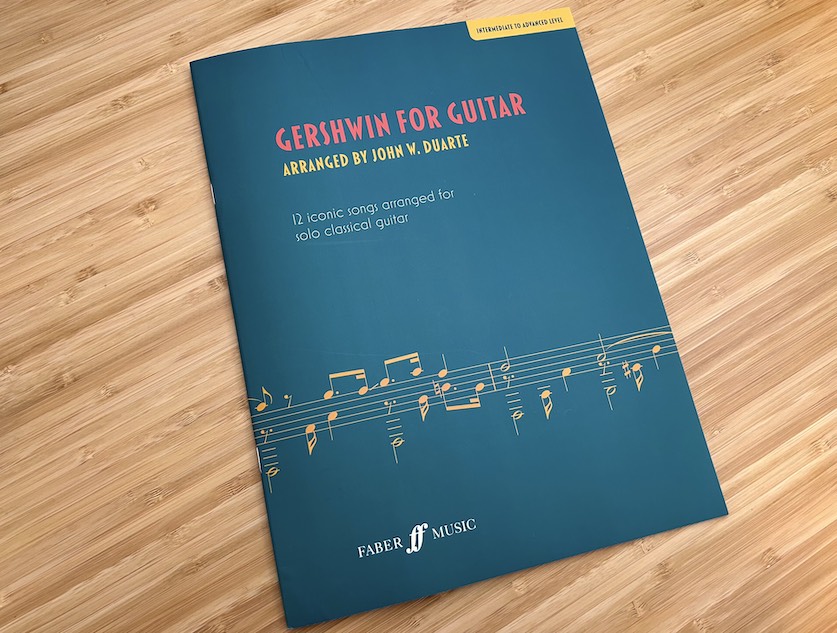 Gershwin for Guitar
Arranged by John W. Duarte
12 iconic songs arranged for solo classical guitar
Faber Music, 2023
Learn more, see samples, or buy at the Faber Music Shop
A big thanks to Faber Music for sending me their new sheet music collection of Gershwin arrangements by the late John W. Duarte and edited by Raymond Burley. By classical guitar standards I'd say these are generally in the intermediate to late-intermediate range from around grade 5-8. I played through a number of the tunes and found them to be really nice and uncluttered. They all have melodic prominence with some added chords, bass, and some moving jazz lines. Below is the publisher's text:
This dynamic collection brings together 12 of Gershwin's iconic songs arranged for solo classical guitar by the late John W. Duarte. Suitable for classical guitar players from intermediate to advanced level, this unmissable compilation is complete with a unique foreword containing insights from the acclaimed guitarist himself. Digital downloads of selected song accompaniments arranged by John W. Duarte are also available.
Also check out this introduction by John W. Duarte giving some musical context:
These tunes date from the days when, in the 1930s–1950s, I was an active exponent of lighter
musics. We played them for dancing and we used them as bases for jazz improvisations. Most of
those included in this volume were written for Broadway musicals (Summertime is from Gershwin's
opera Porgy and Bess), but they belong to an era in which the best popular songs were truly art-
songs, in which imagination, inspiration and craftsmanship shaped both the music and the lyrics, an
era in which Gershwin kept company with Jerome Kern, Richard Rodgers, Cole Porter, Irving Berlin
and others. Very many of those songs have proved their quality by surviving to the present day, a
true definition of 'classic'. Jazz of any kind has two essential ingredients: 'blue' notes and
syncopation. Jazz music proper calls for inflections and rhythmic inequalities that cannot be
accurately notated; it is something of a 'foreign language' to the academically reared musician. For
this reason, I have not arranged these pieces as improvisations, but as settings that are tinged with
the harmonies of popular music through the 1960s and the syncopations that 'hallmark' jazz.
Songs
Embraceable You
Fascinating Rhythm
A Foggy Day
How Long Has This Been Going On?
Love is Here to Stay
Love Walked In
The Man I Love
Nice Work If You Can Get It
Someone to Watch Over Me
Strike Up The Band
Summertime
They Can't Take That Away From Me
Here's a steel string performance of one of the tunes via the Faber YouTube.