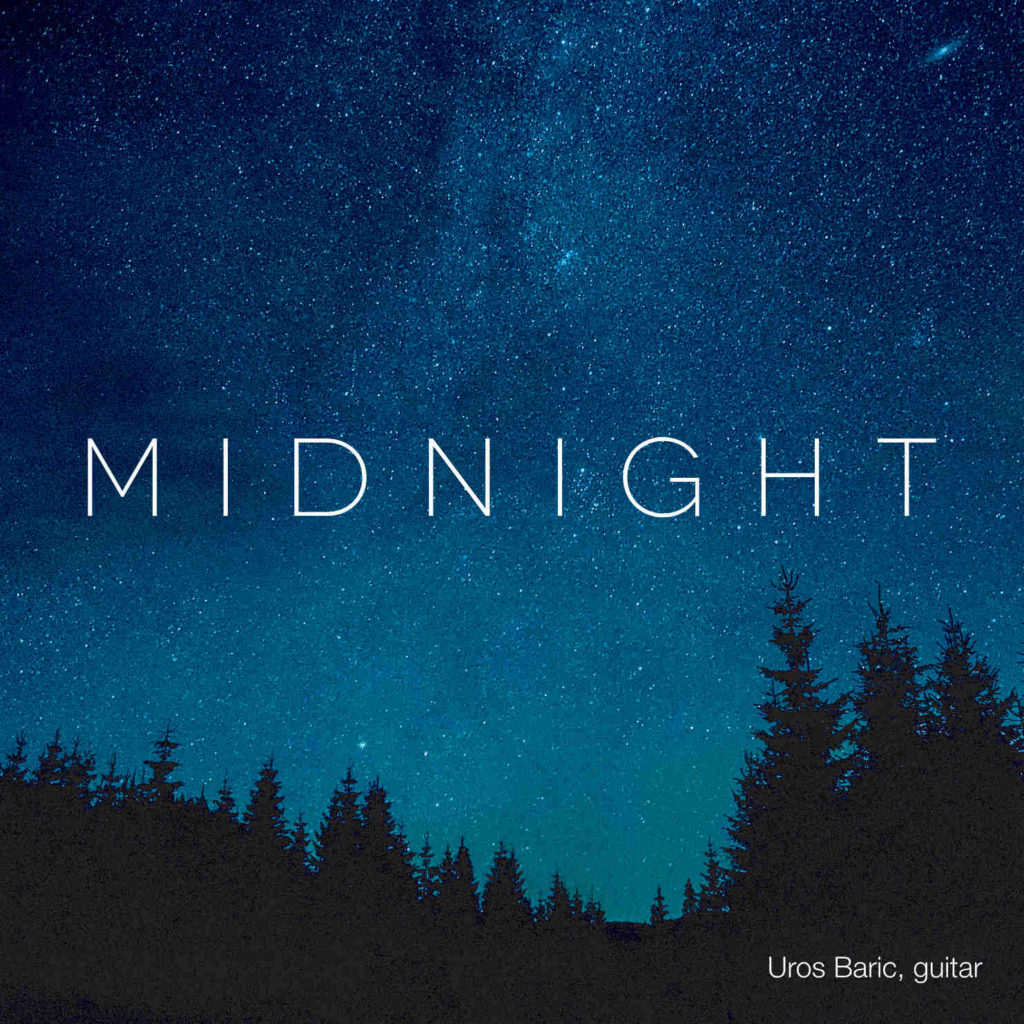 Midnight by Uros Baric
2018 Baros Records
Recorded, Produced, and Performed by Uros Baric
Buy or Learn More at Baros Records
I was very pleased to have met Slovenian guitarist Uros Baric and his family this summer while they were vacationing through Western Canada. Uros is person that I've come to associate with high quality playing, recording, and video work but he's also a super nice person and very collaborative and supportive in the guitar community. Make sure to check out his personal website, lesson site Guitarise, and his record label Baros Records featuring artists such as Matthew McAllister, Marko Feri, and more.
Midnight is his third solo album featuring performances of popular film music, classical favourites, re-imaginings of traditional pieces, popular songs, and contemporary works. The promo blurb says it all, "Midnight is a collection of Uros' favourite music in a calm mood, perfect to listen to at night and is dedicated to his wife and daughter." I was lucky to have met with Uros and also get one of the first copies of Midnight which is hot off the press. Also, bonus points for arranging Canada's very own Joni Mitchell.
Midnight by Uros Baric is filled with beautiful performances, sensitive phrasing, as well as elegant and colourful arrangements. His use of guitar orchestration perfectly suits the collection of works creating a warmth for the album that we wish would never end. Ample cross-string legato, flowing melodic phrasing, and a very sensitive touch make this album truly virtuosic in its musicality. Highly recommended.
Pairing: Late nights looking at the stars with red wine or early morning rain with espresso.
Tracks:
Ennio Morricone (1928):
Gabriel's Oboe, arr. C. Marchione
Playing Love from The Legend of 1900, arr. A. Del Sal
Love Theme from Cinema Paradiso, arr. A. Del Sal
First Youth from Cinema Paradiso, arr. J. Garcia
Nicola Piovani (1946):
Buongiorno principessa, arr. U. Baric
La vita è bella, arr. U. Baric
Johann Sebastian Bach (1685-1750):
Prelude from Cello Suite No. 1, BWV 1007
Franz Schubert (1797-1828):
Ständchen, arr. J. K. Mertz
William Lovelady (1945):
Aram Khachaturian (1903-1978):
Peter Maxwell Davies (1934-2016):
Farewell to Stromness, arr. T. Walker
Trad. Scottish:
The Parting Glass, arr. L. Snowden
Eduardo Sainz de la Maza (1903-1982):
Platero Y Yo – VII. La Muerte
Ralph Towner (1940):
Andrew York (1958):
Trad. Irish:
Danny Boy, arr. T. Takemitsu
Joni Mitchell (1943):
Both Sides Now, arr. U. Baric
Lowell Mason (1792-1872):
Nearer, My God, To Thee, arr. U. Baric