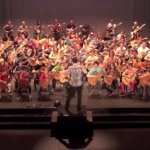 An amazing project with tons of happy looking little guitarists playing great. I like how everyone is dressed so causally, makes for a colourful stage. It's also a good idea mixing electric instruments in there to fill out the sound. On April 12th, for his 10 years tours anniversary concert, Thibault created an incredible orchestra of 100 guitars. Players from different generations, levels and styles all together for this memorable concert at Théâtre Femina in Bordeaux.
Produced by Samuel Cohen Production and Compagnie UBU&Tout.
Music by Stanley Cole, From Brooklyn to Bordeaux (to Thibault Cauvin).
Conducted by Jonathan Raspiengeas.
A full version of the concert is available.
Video and Quote Link: http://youtu.be/PFvx6jWSj_8