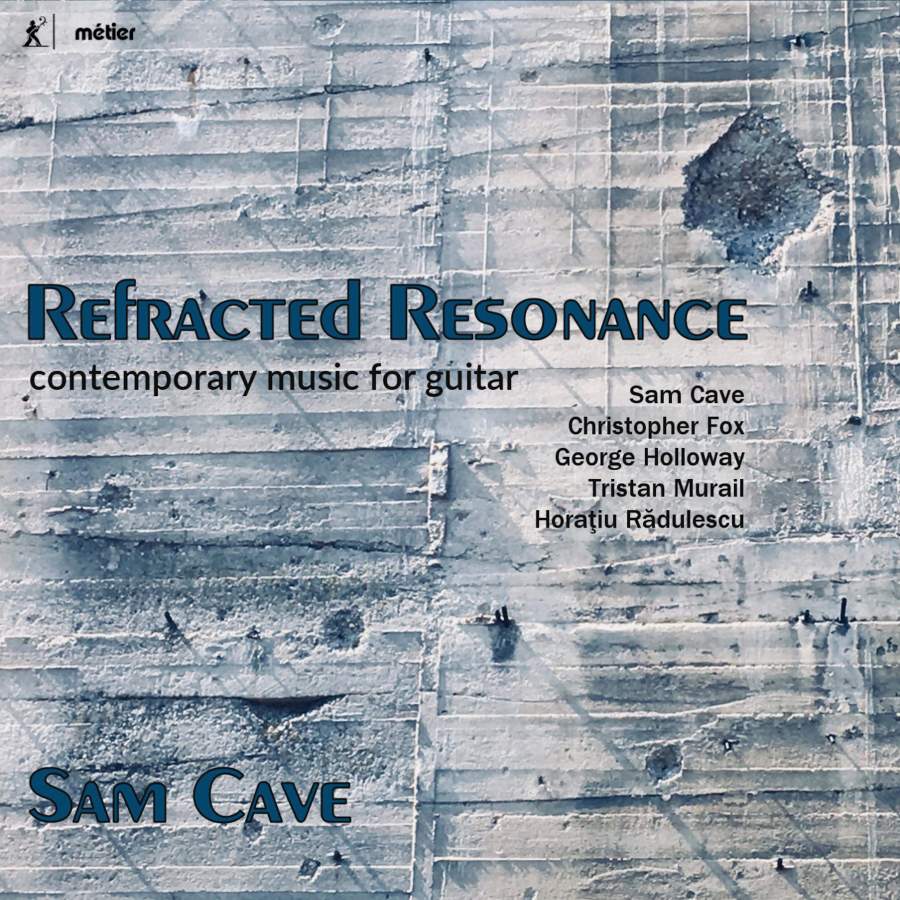 Refracted Resonance – contemporary music for guitar
by Sam Cave
2019 Metier Records
Buy or Listen on: Divine Art | Spotify | Amazon | iTunes
I was very pleased to listen to Sam Cave's new album featuring contemporary music for guitar. It's an exciting new release "exploring the resonance of the guitar and spectrum of harmonic overtones including music by Hoartiu Radulescu, Christopher Fox, Tristan Murail and two sonatas written by George Holloway." You can read the full album notes in the digital booklet (PDF) which also includes detailed descriptions of the work by Cave and some of the composers.
The album opens with the beautiful and haunting Tellur (1977) by Tristan Murail which sets the sound stage for sonic exploration. In Murail's own words "Tellur starts off as a kind of wager: how can one produce the long sound continua necessary for my work on procedures, transitions and evolutions, on an instrument that produces brief, plucked sounds?" The album then switches to new music composed for Cave including the two Sonatas by George Holloway. These are works of heavy contrast, both in compositional material but also in texture. The mix of beautifully spacious soundscapes filled with microtuning, harmonics, and fluttering impulses meet sharp accents and direct motives in a highly virtuosic performance. I really enjoyed the extra space in the Second Sonata and silent, yet intense, rhythmic pacing. Chile (1991) by Christopher Fox changes up the texture to explore South American rhythms in a hypnotic kaleidoscope of strumming. Fox has written a large number of chamber music works that include guitar that are well worth exploring. Subconscious Wave by Horaţiu Rădulescu is a real meditation on sound. In the performer's words, "In this piece, Rădulescu's only for guitar, the strings are microtonally retuned to match certain overtones from the harmonic spectrum of the note C. The performer then plucks, with varying degrees of resonance, a hugely complex array of natural harmonics against a backdrop of ever shifting digital sound. " The album ends with Cave's own composition which an intimate and contemplative piece that nicely ties the album together.
Refracted Resonance by Sam Cave is a daring and beautiful exploration of new soundscapes on the modern guitar. From intimate and spacious mediations to virtuosic contrasts, Cave creates new worlds of sound in focused and thoughtful performances of new music and pinnacle modern works.
From the performer

Sam Cave writes in the album notes: "For every note the guitar can play there are an infinite number of tone colors waiting to be coaxed from its body." This is demonstrated very well in this collection of very new works, which extend the tone palette of the guitar in many ways, from the still, almost mantra-like Refracted Meditation III by the performer, to complex and thickly-textured works by Fox and Murail, two distinctive sonatas by George Holloway and the almost alien soundworld conjured up by Horaţiu Rădulescu in the only work which introduces electronics (taped sounds) alongside the pure acoustics of the guitar. The contrast between Cave's sparse, single line interspersed with gentle chords, and Murail's transfer of spectral cluster technique, is exceptional. – via Divine Art
Repertoire
Tellur by Tristan Murail (b.1947)
Guitar Sonata by George Holloway (b. 1983)
Chile by Christopher Fox (b.1955)
Second Guitar Sonata by George Holloway (b.1983)
Subconscious Wave, Op. 58 by Horaţiu Rădulescu
Refracted Meditations III by Sam Cave (b. 1987)