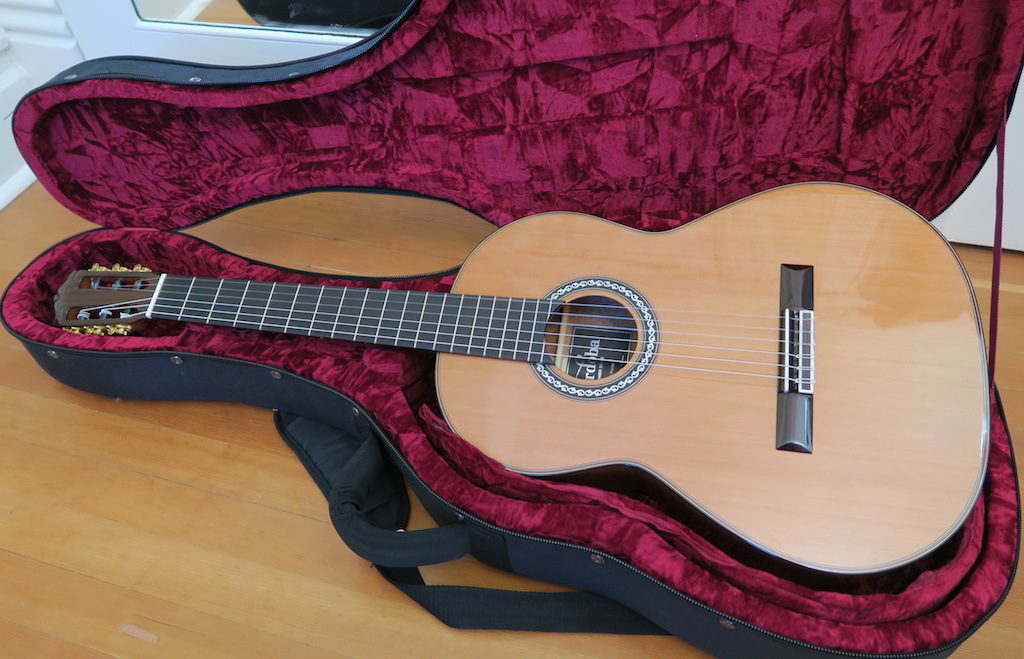 Review: Cordoba C9 Parlor Classical Guitar
Cordoba 'Luthier Series' Line of Guitars
Solid Canadian cedar top, solid mahogany back & sides
Indian rosewood binding / Indian rosewood bridge
7/8 body size, 50mm nut width
mother-of-pearl weave rosette
630 mm scale length
Price range from $850-$1200 USD
YouTube Video Review Here
Buy from Amazon.com: Cordoba C9 Parlor on Amazon
Canadians go here.
Bradford's Opinion at a Glance
Above average volume from what I expected
Better than average tone for a mid-range factory guitar. I'd be curious if the C10 Parlor with Indian Rosewood is better though.
Love the small body size but it is indeed small, I'm short so I like it
The nut/string spacing is also small (think crossover guitars) but good for me but I have small hands. As a classical guitarist I would have liked a slightly larger profile neck but then again it's great to have the option of going this small and I didn't play anything where it interfered or cramped me, in fact, it just made it easier. Purist classical guitarists might not dig it but I do. Main point: it's smaller than what luthiers generally call small-scale guitars (mostly in terms of body size and neck profile).
If you think you need a small guitar this will really make a difference
You can't compare it to luthier made guitars in the +$6000 range but for the price I'm impressed and would happily recommend it to my smaller sized students or those looking for a smaller guitar.
Cordoba's Promotional Blurb:
The Cordoba C9 Parlor is ideal for the player looking for the feel, comfort, and ease of playability that a smaller instrument provides, while retaining the sweet, warm tone created by all-solid wood construction. Built with a solid Canadian cedar top with solid mahogany back and sides, the C9 Parlor features a 7/8 body size, 50mm nut width, and the fan bracing pattern found on most Cordoba guitars. This bracing pattern gives the center of the soundboard more surface area to vibrate and respond to the tension of the strings. A more responsive soundboard makes the guitar louder, and provides better tone.

Like every guitar in the Luthier series, the C9 Parlor is built with Spanish heel construction, where the top of the guitar is attached to the neck, the sides are added next, and the guitar's body is sealed by the installation of the back. This construction technique allows the entire instrument to vibrate as one unified piece.

Aesthetic touches like the mother-of-pearl weave rosette inspired by a 1920's Domingo Esteso guitar add a touch of vintage elegance to this best-seller. Other premium features include a rosewood fingerboard, rosewood bridge, high gloss finish, and Savarez Cristal Corum strings. The C9 Parlor includes Cordoba's lightweight polyfoam case.

*With the introduction of the C10 Parlor, Cordoba decided to rename the model previously titled "C9 Dolce" to "C9 Parlor." We felt the word "Parlor" was a better, more universal descriptor of a small body instrument. No features of the guitar were changed aside from the name.
Specs via the Cordoba Website
Top Solid Canadian cedar
Back & Sides Solid mahogany
Binding/Bridge Indian rosewood binding / Indian rosewood bridge
Purfling/Inlay 6 ply colored wood top purfling, 3 ply maple and ebony back and side purfling
Rosette Pearloid and ebony "Esteso" weave
Finish High Gloss PU
Neck/Fingerboard Mahogany neck / Rosewood fingerboard / Traditional (Classical) Style Neck
Truss Rod Two-way adjustable, 4mm
Scale Length 630mm (24.8″)
Nut Width 50mm (1.96″)
String Spacing at Saddle 57mm
Fret Marker Inlays Pearloid at 5, 7, 9
Nut/Saddle Bone
Number of Frets 12 to body, 19 total
Bracing/Build Fan Bracing
Body Width & Length 271mm (10.6″) at upper bout / 365mm (14.4″) at lower bout
Overall Length 38″
Body Depth 92mm (3.6″) at upper bout / 94mm (3.7″) at lower bout
Tuning Machines Cordoba Premium Gold Tuning Machines
Tap Plate/Pick Guard NA
Case Cordoba Polyfoam Case
My Cordoba Guitar Reviews So Far: