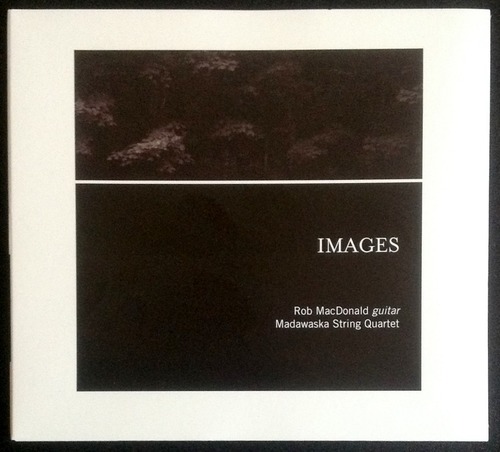 Images by Rob MacDonald
With the Madawaska String Quartet (Rebecca van der Post, Sarah Fraser Raff, Anna Redekop, Amber Ghent) & Peter Palovsky, double bass
Previously published on Classical Guitar Canada in December, 2010
Canadian guitarist Rob MacDonald is well known not only as an excellent guitarist for new music and traditional repertoire but also as a member of the Chroma Duo with Tracy Anne Smith. Joining him on this album is Toronto based Madawaska String Quartet. This album was supported by the Ontario Arts Council and the Canada Council for the Arts and is very well recorded, mostly Canadian (minus Sculthorpe and Pierce), and filled with excellent new music.
Images is a top quality project. The design work and quality of the recording is superb. Furthermore, the guitar and strings is an excellent combination here.
Andrew Staniland was not a name I was familiar with but I will make sure to explore him more. "The New Yorker magazine has described his work as 'an alternately beautiful and terrifying instrumental meditation'"(andrewstaniland.com). The solo work Full Circle is a welcomed addition to the Canadian repertoire and highlights a modern range of rhythm and sonic capabilities of the instrument. It's both an excellent exploration of the guitar's abilities and a meditative composition reminding me of Adams-like minimalism, Renaissance thematic play, and a very clear and open texture. I sense an almost Japanese aesthetic of clarity and flowing angular rhythms. This is a great composition and is executed wonderfully by MacDonald. He displays both an excellent dynamic range and a masterly control over the rhythmic developments in the work.
Omar Daniel is well know through his collaboration with author Yann Martel. However, Daniel is a major composer with a well established presence and a number of guitar compositions under his belt. The work here with viola, guitar, and cello displays a low registered romp that ranges from errie and mysterious to ritualistic and aggressive.
Peter Sculthorpe's Love Song displays some of the lyrical abilities of MacDonald and really showcases the beautiful tone of the classical guitar against the backdrop of earthy strings.
Images for guitar and string quartet by Christopher William Pierce is a complex and haunting work. It's filled with microtonal shifts and complex thematic material that will leave you wanting to listen to it again and again. The string quartet do an excellent job here and MacDonald, by way of good composing for guitar, shines when needed and gets an interesting cadenza as well.
This recording is one of my personal favourites because of the excellent repertoire and instrumentation at the hands of brilliant players and composers. Thanks to the CMC these albums and commissions are made possible, resulting in high level music with integrity. Images by Rob MacDonald and the Madawaska String Quartet is one of the best collections of modern works for guitar and strings both in Canada and abroad.