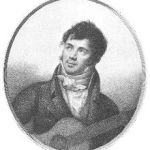 Sor Study No.8, Op.6 (Segovia No. 1) by Fernando Sor (1778–1839)
For Classical Guitar, Free Notation PDF or Notation + Tablature (TAB)
Level: Intermediate (Grade 7)
Here's a free sheet music PDF of one of the most well known Sor Studies. I've made a free copy to attract guitarists to the site and a tablature (tab) version for those who need it. Segovia included this one in his book of Sor studies 20 Studies for the Guitar. It's tricky to keep this piece legato throughout with all the little shifts and string changes due to the 3 voices but it's well worth the effort. Includes fingering, notation, and Tab if you need it. Join the Email Newsletter to get updates on sheet music and lessons. Please consider donating to the site to keep the free sheet music coming.
Free Notation Only Edition
TAB Edition (PDF Download): $2.99
Werner Guitar Editions is my dedicated store for free and premium guitar editions. Includes instant access to PDFs, the best security, search functionality, and payment options. – Bradford Werner
---
Here's a video of Kevin R. Gallagher giving a lesson on the piece via his YouTube.