Theme of this week: The German Baroque (click to see all posts).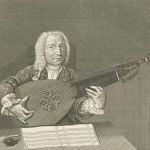 Adam Falckenhagen (26 April 1697 – 6 October 1754) was a German lutenist and composer. He travelled around from court to court much of his life but eventually settled in Bayreuth. It has also been suggested that Adam studied with Weiss and Weiss's pupils making this connect nicely to yesterday's post about Weiss. His music is some of the last German lute music in the Baroque style. Much of his music is in a style of broken arpeggios and scale passages influenced by the French style rather than Italian.
---
Concerto in G Minor:Tempo di Minuetto by Adam Falckenhagen
Ensemble Galanterie Rehearsing "An Evening With Wilhelmine"

ENSEMBLE GALANTERIE
John Schneiderman ~ baroque lute
Jeffrey Cohan ~ baroque flute
William Skeen ~ baroque cello

Frederick the Great's sister Wilhelmine was instrumental in transforming Bayreuth into a great center of culture, where she employed Adam Falckenhagen, who wrote exquisite Concerti for obbligato baroque lute, baroque flute and cello. Wilhelmine played lute and her husband was a flutist, as was his brother-in-law Frederick the Great, who was surely familiar with these concerti for three instruments.
---
Adam Falckenhagen-Fuga (A-Dur)
I like this video because it shows some of the tablature used. You have to wait for it though.