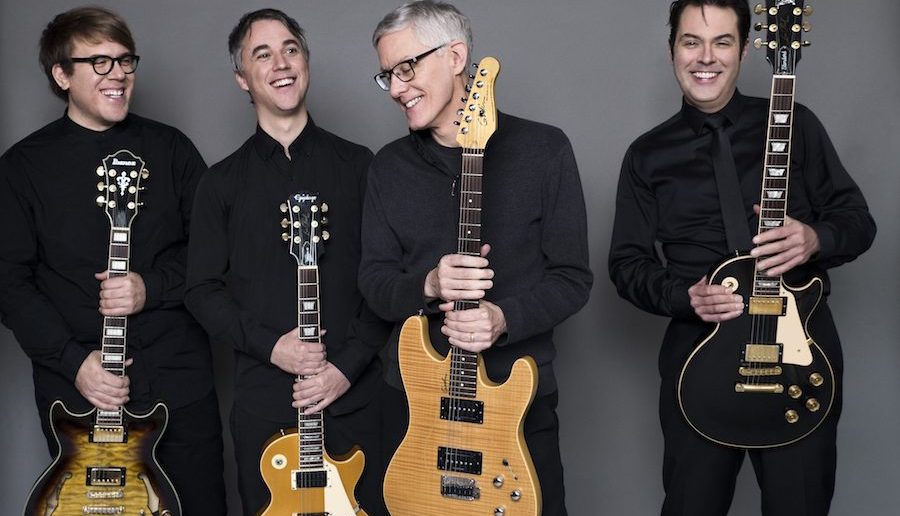 Instruments of Happiness
Artists: Jonathan Barriault, Simon Duchesne, Marc-Olivier Lamontagne, Tim Brady
Location: Open Space – Victoria BC
Date: Saturday, April 1, 2017, 8:00 pm
More info and tickets: Open Space
Electric guitarists Tim Brady, Jonathan Barriault, Simon Duchesne, and Marc-Olivier Lamontagne will present a concert that promises "to extend the boundaries of the electric guitar." As part of their Canada tour this concert features compositions by Tim Brady, Emily Hall, Maxime McKinley, René Lussier, Gordon Fitzell, Scott Godin, and Jordan Nobles. Come be part of this exciting exploration pushing new music for electric guitar to it's next evolution.
Instruments of Happiness is the name of the electric guitar ensembles produced by Bradyworks under the direction of Tim Brady. This ambitious project is dedicated to the performance of new music and includes a quartet, a professional orchestra of 20 guitarists and a 100-strong community-focused ensemble. Instruments of Happiness is clearly obsessed with the electric guitar. We only have electric guitars on stage, and we hope fans of the instrument will find a sympathetic resonance with our concerts. However, we also hope to move beyond the guitar, creating new projects and concerts that are unique, imaginative and passionate musical events, all prepared with the greatest care for the quality of sound and the performance of the music. We hope to be not just guitarists, but musicians. We hope to bring you some happiness with our instruments.
Victoria is home base to This is Classical Guitar.
Check out more Victoria posts at Classical Guitar in Victoria.