Torre Bermeja by Isaac Albéniz (1860–1909) on classical guitar – This piece comes from Op. 92: 12 Piezas características for piano for which this is No. 12: Torre Bermeja (Serenata). The title means "purple tower" or "red tower". There are towers of this name at the Alhambra, but Albeniz's piece is believed to be named after the Torre Bermeja, a defensive structure on the Playa de la Barrosa in the Province of Cadiz. Originally written for piano, it was transcribed for classical guitar by Miguel Llobet and has become a regular work in the repertoire.
Sheet Music: Torre Bermeja by Albeniz (Sheet Music Plus)
Video Performances
Slovenian-born (Madrid based) guitarist Sanja Plohl plays Torre Bermeja by Isaac Albéniz (1860–1909). This comes via her YouTube Channel. She is playing her own transcription here but you can also get the Scott edition from Sheet Music Plus: Torre Bermeja. Nice clean playing from Plohl with some sweet melodic work too.
---
Andrey Parfinovich plays Torre Bermeja by Albeniz at the 54th Tokyo International Guitar Competition in 2011. He placed fourth. This comes via his YouTube. I really like the clarity of the fast arpeggios as well as the care to the full sounding tone on the melodic passages. It's a bit like listening to a great classical and a flamenco player at the same time. Colourful and interesting, a new Bream for us? Not that Bream can ever be really replaced! Super fluid and relaxed hands too.
---
Australian classical guitarist Rupert Boyd performing Torre Bermeja by Isaac Albéniz (1860-1909). Great playing overall, a bit of grit in there but always in control. This comes via his YouTube channel.
---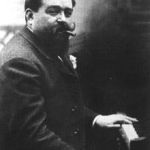 Isaac Manuel Francisco Albéniz y Pascual (Spanish pronunciation: [iˈsak alˈβeniθ]; 29 May 1860–18 May 1909) was a Spanish virtuoso pianist, composer, and conductor. He is one of the foremost composers of the Post-Romantic era who also had a significant influence on his contemporaries and younger composers. He is best known for his piano works based on Spanish folk music idioms.
Transcriptions of many of his pieces, such as Asturias (Leyenda), Granada, Sevilla, Cadiz, Córdoba, Cataluña, and the Tango in D, are important pieces for classical guitar, though he never composed for the guitar. The personal papers of Albéniz are preserved, among other institutions, in the Biblioteca de Catalunya. Read more via his Wiki Page.