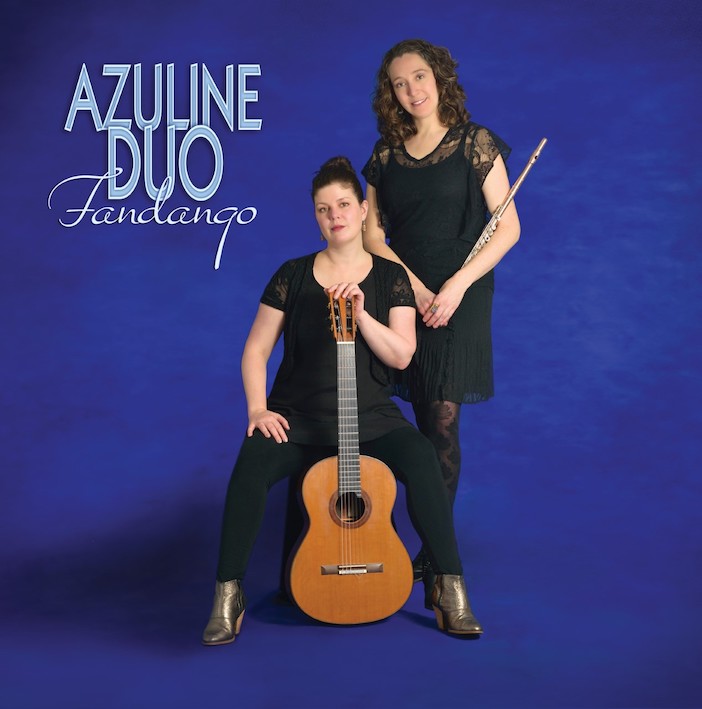 Fandango by Azuline Duo
Emma Rush, guitar
Sara Traficante, flute
Listen or Buy via Azuline Duo, Spotify, Amazon, iTunes, and more.
Great to hear the new album, Fandango by the Azuline Duo featuring a variety of works for guitar and flute. The album includes their arrangements of Santiago de Murcia, Chiquinha Gonzaga, pieces by Miroslav Tadić, Gerald Garcia, and Maximo Diego Pujol. It also features the premiere recording of a new work by Jeffrey McFadden. Flute and guitar make for a fantastic ensemble, combining the melodic beauty of the flute with the percussive and rhythmic intensity of the guitar. In the hands of a seasoned ensemble such as the Azuline Duo the result is delightful.
I love the arrangement of Santiago de Murcia's solo Baroque guitar work which lends itself very well to duo exploration. The extroverted Spanish strumming and Baroque lines contrast nicely with the soaring flute. Chiquinha Gonzagawas a Brazilian composer, pianist and the first woman conductor in Brazil. As the Duo mentions, "Chiquinha Gonzaga…was a leader in combining music of Europe and Africa to develop a national sound in Brazil." The duo is right at home with the repertoire adding both a strong rhythmic feel with a fun sense of playful motivic attention. Spacious pacing and the beautiful alto flute shine in the first of the Macedonian Dances by Miroslav Tadić. The rest of the dances are filled with some intense rhythms and virtuosic ensemble work. The Pujol piece is a real crowd pleaser delivering on the Argentinian flavour with hints of Piazzolla but with some extra effective guitar work. Gerald Garcia is a wonderful composer, arranger, and guitarist and these creative arrangements of Irish and Scottish melodies are truly magical. A range of ethereal textures to rolling Celtic dances work perfectly on guitar and flute, you also get some wooden flute and tin whistle appearances. When you hear these pieces you never want them to end! Jeffrey McFadden is one of Canada's great classical guitarists and has also been growing a solid oeuvre of successful compositions. With an intricate knowledge of guitar orchestration, strong melodic lines, and interesting rhythmic grooves, these works are a great contribution to the repertoire.
Fandango by Azuline Duo is filled with beautiful textures, intense rhythmic grooves, and excellent performances. From exciting Spanish and South American works, wonderfully orchestrated arrangements, to an exciting new Canadian work, this album will interest general listeners and musicians alike. Highly recommended.
Repertoire *arranged by Azuline Duo)
Fandango by Santiago de Murcia (1673-1739)*
Lua branca by Chiquinha Gonzaga (1847-1935)*
Atraente by Chiquinha Gonzaga (1847-1935)*
Macedonian Dances by Miroslav Tadić (b.1959)
Nubes de Buenos Aires by Maximo Diego Pujol (b.1957)
Five Celtic Pieces Traditional, arr. Gerald Garcia (b.1949)
Aguardiente by Jeffrey McFadden (b. 1963)