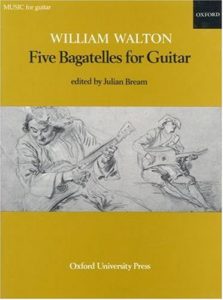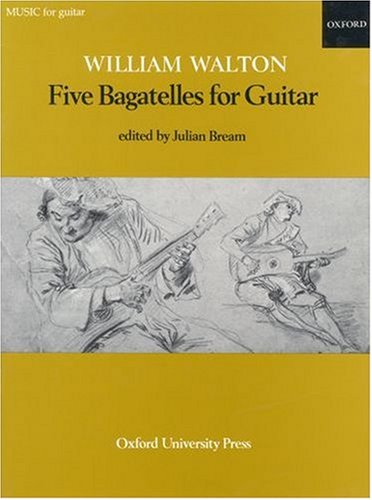 Five Bagatelles for Guitar by English composer Sir William Walton (1902-1983) were written for Julian Bream and dedicated to Malcolm Arnold "with admiration and affection for his 50th birthday." Julian Bream gave a complete premiere the work on Jan 21, 1973 at the Bath Festival, and recorded the works twice: once in 1973 and again in 1984. Approximate Duration 12.5 minutes. Interestingly, the second Bream recording followed Walton's orchestration of the work as Varii Capricci, which includes some of Bream's edits and a completely recomposed final movement. For a more in-depth comparison of the orchestral version, check out this dissertation on Five Bagatelles by William Walton: A Performance Guide Based on the Composer's Orchestration, Varii Capricci by Marco Alejandro Villa.
Walton's career as a composer spanned 60 years, and he wrote in a variety of classical genres and styles, including film scores and operas. Five Bagatelles is his only work for solo guitar, and one of two works that include guitar, the second being a song cycle for tenor and guitar titled Anon. in Love in six songs, written for Peter Pears and Julian Bream in 1959 (see video below).
Recommended Sheet Music
Solo Performance via Sanel Redzic on Youtube (more video below)
Orchestral Version – Here's a recording of the orchestra arrangement which is of particular interest to hear how the composer imagined the colouration and depth of the work.
Out of Interest, here is the piece for voice and guitar, Anon. in Love: 1) Fain Would I Change That Note; 2) O Stay, Sweet Love; 3) Lady, When I Behold the Roses; 4) My Love in Her Attire; 5) I Gave Her Cakes and I Gave Her Ale; 6) To Couple Is a Custom
Also see this excellent write on the Bagatelles up by Graham Devine via this Naxos Album:
"Julian Bream was the inspiration for many of the works by British composers for the guitar. Building on the work of the great guitarist Andrés Segovia, Bream commissioned music from a number of composers with international reputations, thus creating a whole new repertoire of guitar music, which had until then belonged largely to the sound world of Spain and Latin America. At the same time Julian Bream played an important rôle in the revival of interest in the Elizabethan lute, with his recitals of solo lute music, accompaniments for singers such as Peter Pears and Robert Tear, concerts with the harpsichordist George Malcolm and the establishment of his own consort, bringing early music to a new audience.

The present recording begins with William Walton's only piece for solo guitar, his five Bagatelles. Dedicated to Malcolm Arnold, these miniatures have won firm favour among guitarists. They were first performed by Julian Bream in 1972. When Bream had first asked him to write a piece for solo guitar, Walton had expressed some uncertainty in taking on such a task. As he later remarked, "never having thought of writing for the solo guitar I asked Julian for a fingerboard chart, which would explain what the guitar could do. I managed to write some rather pretty pieces for him except that the first six notes of the first piece all need to be played on the open strings. So when he begins to play, the audience will probably think he's tuning the bloody thing up!"

Walton need not have worried: with its fanfare-like opening, the first Bagatelle seizes the attention at once. The first section is full of charm and wit fused with jazzy harmonies. This leads to a more melancholic midsection, where a beautiful reflective melody is set against lush accompanying chords. A return to the opening material is heard before a conclusion in triumphant style. The second Bagatelle is slightly reminiscent of Satie, with its hypnotic accompaniment set underneath a cool, breezy melody. The third of the set, entitled Alla Cubana, uses the syncopated rhythms often found in Latin-American music. The serene fourth Bagatelle leads to a virtuoso tour-de-force fifth, an exciting climax to the set." Naxos notes 8.556040 Graham Anthony Devine
Bream Discussing the Piece – Not much new info but just nice to see him. The recorded versions of him are far better than these live ones (see below).
More Videos
Rovshan Mamedkuliev – Five Bagatelles by Walton – Amazing, fast, and crisp.
Stephanie Jones plays all Five Bagatelles by Walton – Great young player. For all five click the link, the video below is only the first one.
Bream Recording (1973)
Some great colour choices and very musical. I still love this recording, however, I do feel the increased tempos of modern players suits the fifth movement a bit better. Bream – Bagatelle No.1 // No.2 // No.3 // No.4 // No.5.