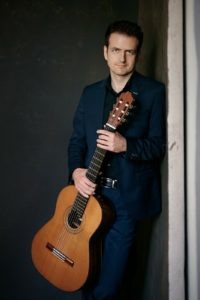 Goran Krivokapić (1979) is a Montenegrin classical guitarist. A renowned professional performer, recording artist, competition winner, and teacher. He is professor of guitar at Cologne University of Music and teaches guitar at Detmold University of Music. He is currently based in Cologne, Germany. I've featured Krivokapić on the site many times enjoying his top-notch performances and excellent repertoire choices. He is a very balanced and modern player with refined phrasing and pacing as well as thoughtful attention to form and compositional elements. Also check out his recordings and performances with the Montenegrin Guitar Duo. One of my favourite musicians to listen to and gain insight into performance interpretation. Read his full biography here. Below are some links and sample video performances.
Links: Artist Website | Discography | Wikipedia Entry | Youtube | Spotify | Facebook
Featured on This is Classical Guitar
Sample Performances
Biography
Below is from his Biography page on his website, as seen February, 2022.
Setting new standards with technical virtuosity and his characteristical interpretation of old and new repertoire makes Goran Krivokapić one of the leading guitarists and chamber musicians of the new, international scene.

He won his first international competition at the age of fourteen, and continued to win eighteen more, including "Michele Pittaluga" in Alessandria, Italy (2000), "Andrés Segovia" in La Herradura, Spain (2000), Koblenz International Guitar Competition (2003), "Guitar Foundation of America" (GFA) in Montreal, Canada (2004), "Dr. Luis Sigall International Competition of Musical Performance" in Viña del Mar, Chile (2004).
Two Golden Guitar awards followed at the annual "International Guitar Convention in Alessandria" in Italy – 2005 as the best young guitarist of the year and 2006 for his debut CD. Since then he has performed all over Europe, North and South America, Asia, Africa and Russia, appearing at such prestigious halls as the Concertgebouw in Amsterdam, the Tchaikovsky Hall in Moscow, Lubkowitz Palace in Vienna, and Auditorio Conde Duque in Madrid.

As a performer, lecturer and adjudicator Goran Krivokapić is a frequent guest (both as a soloist and with Danijel Cerović as a member of Montenegrin Guitar Duo) at many international festivals such as Festspiele Mecklenburg-Vorpommern, Festival Internacional de Música y Danza de Granada, Kotor Art, Koblenz International Guitar Festival, Forum Gitarre Wien, Iserlohn International Guitar Festival, GFA International Guitar Convention, A Tempo Festival, Guitar Art Festival, Shenyang Guitar Festival and Daejon Guitar Festival.

As a soloist he has performed with the Slovak Chamber Orchestra of Bohdan Warchal, Symphony Orchestra of Moscow "Russian Philharmony", New Russian Symphony Orchestra, Turin Philharmonic Orchestra, Johannesburg Symphony Orchestra, Kwazulu Natal Philharmonic Orchestra, Aukso Chamber Orchestra, Belgrade Philharmonic Orchestra, Montenegrin Symphony Orchestra, Romanian National Radio Orchestra, Folkwang Chamber Orchestra, Chilean Symphony Orchestra, Primavera Orchestra, Istanbul State Symphony Orchestra, St. George String Orchestra, Berliner Camerata, Philharmonic Orchestra Bremerhaven and Shenyang Symphony Orchestra.

Goran Krivokapić has given masterclasses, lectures on Bach and workshops at universities such as Grieg Academy (Norway), State University of New York, University of Toronto, Hochschule für Musik Detmold, Indiana University Jacobs School of Music, Florida State University, Conservatorium Maastricht, University of Cape Town, University of Texas at Dallas, Victoria Conservatory of Music, Chapman University, Royal Conservatory of Music in Montreal, Seoul National University, University of Manitoba, University of Texas in Brownsville, State Consevatory M.I. Glinka Nizhny Novgorod, University of Wisconsin, Loyola Marymount University in Los Angeles, Arkansas State University, University of Veracruz and Tianjin Conservatory.
He has been active in the "Rhapsody in School" project on a regular basis, an outreach initiative of Lars Vogt which devotes itself to bringing classical music into the classroom.

Regular broadcasts and interviews for television and radio include Medici TV, BBC, France Musique, Arte, Deutschlandfunk Kultur, WDR, Hessischer Rundfunk, Bayerischer Rundfunk, MDR, SWR, Fox 7, WBGH Boston, Fine Music Radio, ClassicFM, ABC Classic and RTCG.
His recordings and performances have been highly praised and featured in Gramophone Magazine (UK), Classical Guitar Magazine (UK), Soundboard Magazine (USA), The WholeNote (Canada), Akustik Gitarre, Neue Musikzeitung, (Germany), Gendai Guitar Magazine (Japan), Musica, Seicorde, Il Fronimo and La Stampa (Italy), Les Cahiers de la Guitare (France), Beeld and Die Burger (South Africa), Vijesti and Mobilart (Montenegro).

Goran Krivokapić's musical focus is on the development of new works for classical guitar, mainly through making his own transcriptions from the baroque and classical works, and collaborating with contemporary composers such as Gerard Drozd, Hendrik Hofmeyr and Atanas Ourkouzounov, who have dedicated several of their solo and chamber music works to him and Montenegrin Guitar Duo.

Montenegrin Guitar Duo performances have been highly acclaimed by both audience and critics who praise their live performances as well as their world premiere Naxos recording of J. S. Bach's complete English Suites in two volumes, transcribed by the duo.

Born in 1979, Goran Krivokapić started his music education when he was eight with Mićo Poznanović at the Music School of Herceg Novi in Montenegro and furthered his studies at the Faculty of Music Art in Belgrade in the class of Srđan Tošić, graduating in 2000. He continued with Hubert Käppel and Roberto Aussel at the "Hochschule für Musik Köln" in Germany, where he graduated and received the "Konzertexamen" degree. He then pursued his master's degree at the Conservatorium Maastricht, the Netherlands, under the tutelage of Carlo Marchione and Masters after Masters under the tutelage of Raphaella Smits at LUCA School of Arts Campus Lemmensinstituut in Leuven, Belgium. He is professor of guitar at Cologne University of Music and teaches guitar at Detmold University of Music. He lives in Cologne with his wife and son.

Photo and Bio via goran-krivokapic.com