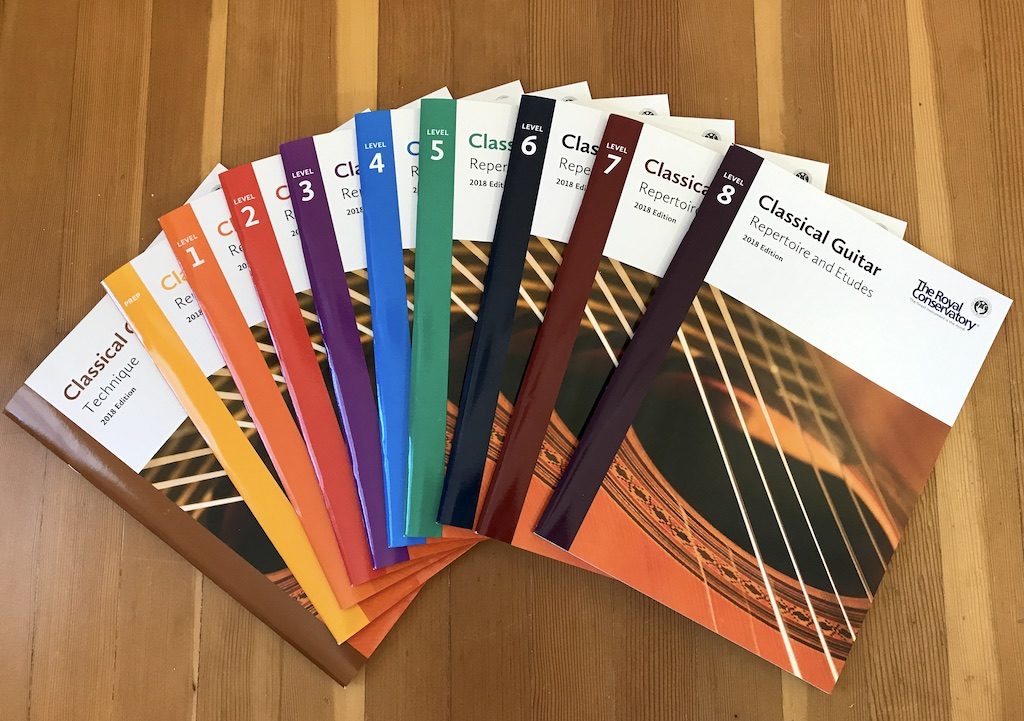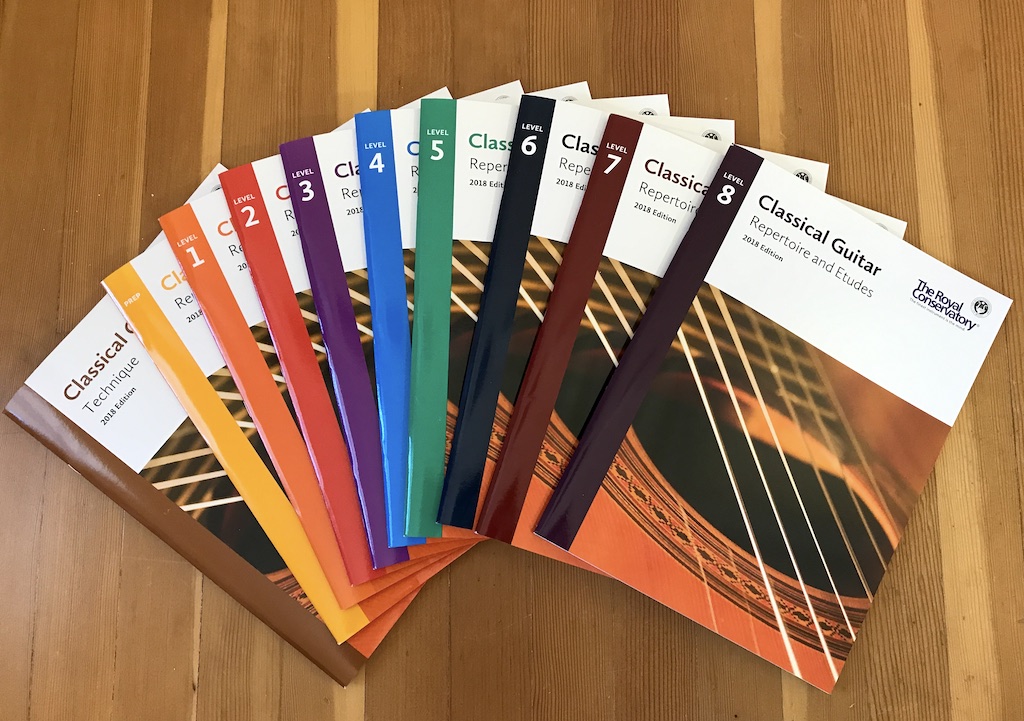 Classical Guitar Series 2018 Edition
The Royal Conservatory of Music Toronto has a new series of graded books for classical guitar to replace the 2011 Bridges Guitar Series. Click here to see the book sampler (PDF). At first glance I'd say maybe 15-20% of the series is new pieces including some Dyens and other mainstays. There is some reorganizing of levels but not too much. Technique book looks very similar.
Check back soon. I'll be doing a full review of each book over the next few weeks.
Buy the Books via Amazon
Here's their promo blurb:
Drawing upon its reputation of excellence, the fifth edition of The Royal Conservatory's acclaimed guitar series presents a fresh and exciting selection of material to engage classical guitar students at all levels. Each progressive Repertoire and Etudes book explores a wide range of historical periods and styles, featuring pieces compiled from more than 500 years' worth of guitar and other plucked-string music. With this series, teachers and students will embark on an innovative learning path designed to foster well-rounded musical development and an enduring passion for their instrument.

The nine books in this one-of-a-kind series include carefully chosen repertoire and etudes that introduce students to both classic favorites and new, exploratory pieces. Featuring updated repertoire from modern composers such as Sérgio Assad, Dušan Bogdanović, and Roland Dyens, and an increased presence of South American music, this progressive series provides an excellent balance of styles suitable for students of all ages and learning styles.
My Comments and Reviews
RCM Technique Book – The good thing about this book is that students get a manageable amount of technique practice at their appropriate level. I can't really think of anything more useful to teachers and students or a book that does this so methodically. Plus, throughout the grades students get exposed to a wide variety of scales, arpeggios, slur scales, 3rds, 6ths, tremolando scales, right hand fingering requirements, tempo markings for each item, and more. That said, my main issue with this book is the left hand scale fingerings. It's not that they are bad fingerings but that they seem inconsistent. Sometimes scales use guide fingers, other times shift randomly with a stretch. Sometimes there are squeeze-shift position changes, other times not. It's as is each scale was fingered by a different teacher. I like to teach my students clear concepts rather than mix it up constantly. Overall I don't love the fingerings. So there, I said it.
RCM Prep Level Book – Overall this is an improvement with new pieces by McFadden Eikelboom and more. The new pieces make this entry level book a bit more accessible to the post-method book student. This is not a huge deal but, again the left hand fingering is inconsistent. For example, on page 6 Petit Poney uses 3rd finger on D while the next few pieces use 4th finger and this happens throughout. I'm not against student learning a variety of fingerings (or different fingerings needed for cross-string legato) but at this stage in their development students need consistency so teachers can enforce concepts. Again, it's as if a different editor fingered each piece. I realize this is an anthology of works but did no one oversee the entire project? The right hand fingering is generally good but a little different to how I teach at this level. Some pieces could be reduced to a simply i, m fingering the entire time with only one two awkward string crossings (just as scales have). Instead, a few of the pieces are bogged down with overly complex i, m, a combinations that are very difficult for beginners to accomplish considering the technique and scales are two-finger alternation. Nevertheless, the right hand fingerings do work well so I can't argue much on this point. I use this book but will be grumpy at times because of the left hand fingering.
Videos for the RCM Classical Guitar Series 2018 (more coming soon)
RCM Preparatory Level Videos