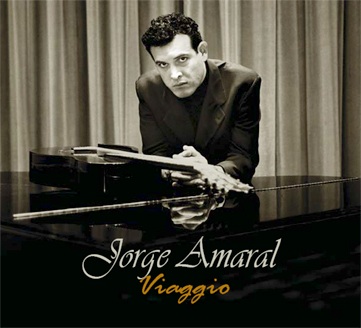 Listen to samples or buy:
Viaggio by Jorge Amaral via CD Baby, or Amazon
Artist Website:
www.jorgeamaral.com
Tracks:
D Minor Partita BWV 1004 by J.S. Bach (1685-1750)
Invocation y Danza by Joaquin Rodrigo (1901-1999)
Sonata Op. 47 by Alberto Ginastera (1916-1983)
I recently reviewed Duo Amaral's Súplica praising their musicality and virtuosity and I'm now very pleased to review Jorge Amaral's solo recording titled Viaggio. Jorge Amaral is currently faculty at Baldwin Wallace college in Ohio as well as an active solo performer and duo partner with his wife, guitarist Mia Pomerantz-Amaral.
Immediately, on this well-known partita for violin by Bach, Amaral caught my ear with a thick cross-string ornament.  His interpretation is quite pianistic with thick tone and clear phrasing mixed with a strong sense of pulse. However, he offers enough flexibility to produce convincing phrases and shaping. What I really like is the presentation of each note with a certain degree of strength. The corrente has a nice crisp articulation which is a welcomed effect due to the strong right-hand that might otherwise become monotonous. The sarabande has a great deal of space due to his slow tempo but it kept me engaged. I appreciate his ability to play with this much space as the guitar can often suffer with such tempos. His tempos on the gigue and all the dance movements allow him room to ornament and really bring out the musical ideas. I know from reviewing his duo that he has the chops to push the tempos if he wants but he airs on the musical side here which results in a high level of understanding for the listener (think: motifs, sequences, bass lines across bars, voice independence).  The performance of the chaconne brings out much of the same qualities as the dance movements but showcasing his ability to sustain a longer form and keep the forward motion going. The chaconne clocks in here at 15 minutes and he really pushes through with very little downtime. Some of the arpeggios sound a bit unnatural due to the close mic but are nevertheless performed with rhythmic integrity. A real strong performance of this giant work.
Rodrigo's Invocation y Danza, written in 1961, is a mystical work filled with the best of Rodrigo's more meditative and serious side. Filled with mysterious textures such as the opening bass lines mixed with harmonics, time stands still in this work until the dance occurs later on. It is well performed here. There is one very small moment (2:36) when I thought Amaral was going to loose control but it ended up just sounding risky (which is always okay by me). As I said before, his style sounds pianistic to my ears and he always has a big thick sound but also articulation and sublties that I really enjoy hearing. I feel he has a very mature understanding of the work although it might come off a bit less inspired than the Ginastera that comes afterward. Nevertheless, an excellent recording of the work.
The Sonata by Argentine composer Alberto Ginastera (1916–1983) is spectacular work and guitarists are very lucky to have it. I was at the symphony the other day and heard a work by the composer that sounded very similar to the Sonata which is always a good sign of musical integrity. The piece is very successful at exploring the timbres of the guitar that match with the musical ideas of the composer. More than the Bach and Rodrigo, Amaral really connects with the music here. In fact, as I was listening to the recording I was suddenly struck by the fact that this track seems to up the level a notch. Amaral seems very inspired here which, only in retrospect, make the other works on the recording lack the same level of energy. But really, Amaral handles the oddly expressive textures and extended techniques very well. Listening to this work is exciting every time I hear it and Amaral pulls it off beautifully. A truly inspired and virtuosic performance!
The recording:
The sound is very high quality, lots of close mic but surprisingly little finger/hand noise, although it is there. I'm not too sure about the amount of reverb, it's a bit too thick for my taste and I suspect it's digital (if it's not digital then the close mic is throwing me off). Don't get me wrong, it sounds good and won't bother even picky listeners but I thought there was too much reverb and not the reverb sound I prefer. Nevertheless the balance is awesome and he sounds great on the Bugoslaw Teryks guitar. I don't like close mic recordings (I prefer the mix on the Kraft  – Naxos CDs, a bit more hall and not too close) but it's a give and take deal recording classical guitar and certainly all personal preference. The sound of the close mic here sounds at times a bit unnatural at times but it does sound loud and clear. Plus, the close mic gives the Bach and Ginastera some real punch that I ended up liking in the end.
Conclusion:
Jorge Amaral is great player, no doubt about it. These three massive works sound fresh and exciting in Amaral's care. A real solid player with good ideas and musical interpretations. Buy the album because you want to hear solid musical ideas in the Bach, a mature interpretation of Rodrigo and a brillant and inspired performance of Ginastera. Bravo!
Listen to samples or buy:
Viaggio by Jorge Amaral via CD Baby, or Amazon