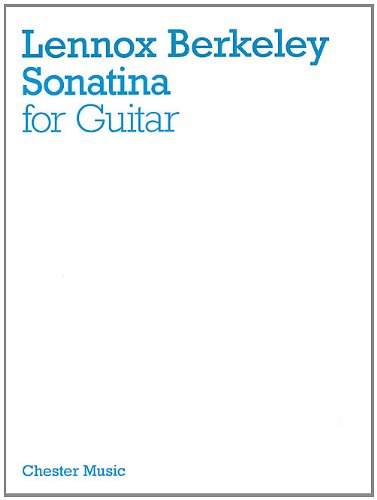 Sonatina for Guitar op.52 by Lennox Berkeley (1903-1989) – Sir Lennox Randal Francis Berkeley (1903–1989) was one of the major English composers of his time and wrote this work in 1957. It was dedicated to Julian Bream, who gave its first performance at Morley College, London, on March 9, 1958. The Sonatina is in A major with 3 movements: Allegretto; Lento; Rondo-Allegro non troppo. Berkeley also wrote Quatre pièces pour la guitare (1928) and the Theme and Variations, Op. 77 (1970).
Recommended Sheet Music: Sonatina for Guitar, Op. 52 by Berkeley
Some more info via Naxos (Graham Devine): "In 1957 Lennox Berkeley wrote his Sonatina, Op. 52, for Julian Bream, who gave the first performance the following year. The first movement is in traditional sonata form, its lyrical opening reminiscent of English folk-song. The second movement suggests French influence, a characteristic trait of a composer of partly French ancestry and a pupil of Nadia Boulanger. It begins with a simple motif that twists and turns throughout a variety of moods, magically recalling the reflective delicacy of some of Debussy's piano music. The final movement is in rondo form."
Video Performances
Laura Snowden plays Lennox Berkeley Sonatina
Bream's first recording of the work. From the LP, "The Art of Julian Bream," RCA Victor Red Seal, serial number LM-2448, issued 1960. Notes by Irving Kolodin. This LP represents the culmination of Bream's first recordings in an American studio.
Tal Hurwitz Plays Sonatina for Guitar op.52 by Lennox Berkeley.