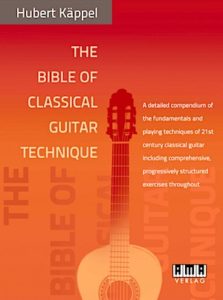 The Bible of Classical Guitar Technique by Hubert Käppel – With 245 pages of exercises and excellent text advice, photos, explanations, and tons of exercises, this is a massive collection and cumination of Käppel's amazing teaching career. It's a huge contribution to the guitar world and I'm only just starting to dive deep into the ideas. Also has great practice tips and general advice about studying music.
Buy via Amazon: The Bible of Classical Guitar Technique by Käppel
The Pros: It's huge and will give you a lifetime of exercises and things to practice. It's also quite organized and progressive starting each section from simple exercises and moving toward some extremely challenging material. There are a number of exercises I've never even thought of doing so it was a total eye-opener. The lessons are great and the text info is quite in-depth and extensive.
The Cons: It's too big for some students. They won't know where to begin or how to use the book on the music stand. Many people I know who this book have left it on the shelf because it's so massive that it's hard to use it on a daily basis or to flip around (tip: use sticky tabs). It's also translated from German so there are occasion times when I would word things differently (although I can always easily understand everything).
Conclusion: I think the value of this book far exceeds any cons, for a minimal price you are getting a massive about of material, a lifetime of condensed teaching advice, and large number of exercises that you've never even thought of. It an essential addition to any good home library of guitar books.
You might also consider my technique books