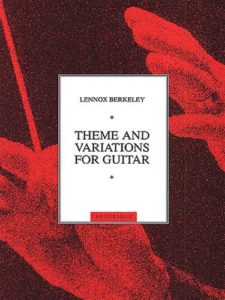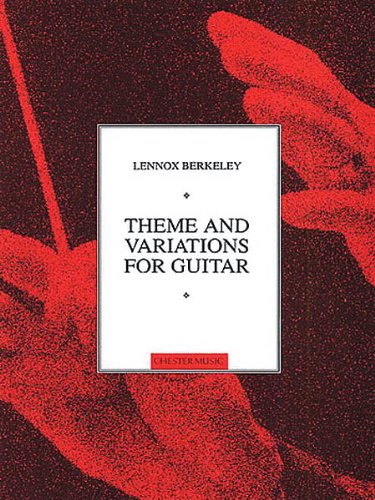 Theme and Variations Op.77 by Lennox Berkeley (1903-1989) — Sir Lennox Randal Francis Berkeley was one of the major English composers of his time. Op.77, written 1970, was dedicated to the Italian guitarist and composer Angelo Gilardino, who gave the first performance in 1971 in Italy. The theme is followed by six variations. Gilardino said of the work, "Theme and variations is a very subtle essay of sheer musical wisdom and of mild, peaceful poetic memory: the work of a great old artist." In his Naxos notes, Graham Devine describes the piece: "…as in the Sonatina, both English and French influences can be heard. The theme is followed by six short and finely crafted variations, with a final variation of particular beauty, ending with an air of meditation."
Recommended Sheet Music
Graham Devine via his Naxos album (more below)
Graham Devine on Berkeley and the guitar via this Naxos Album (video above):
In 1957 Lennox Berkeley wrote his Sonatina, Op. 52 for Julian Bream, who gave the first performance the following year. The first movement is in traditional sonata form, its lyrical opening reminiscent of English folk-song. The second movement suggests French influence, a characteristic trait of a composer of partly French ancestry and a pupil of Nadia Boulanger. It begins with a simple motif that twists and turns throughout a variety of moods, magically recalling the reflective delicacy of some of Debussy's piano music. The final movement is in rondo form.

The same composer's Theme and Variations Op. 77 was written in 1970 for the Italian guitarist Angelo Gilardino who gave the first performance the following year in Italy. Again as in the Sonatina, both English and French influences can be heard. The theme is followed by six short and finely crafted variations, with a final variation of particular beauty, ending with an air of meditation.

Berkeley's Quatre pièces pour la guitare were written when the composer was a student of Nadia Boulanger in Paris between 1927 and 1932. Berkeley had been present at Andrés Segovia's Paris début recital in 1924, a performance that must have made a strong impression on the young composer as the Quatre pièces were dedicated to the great Spanish guitarist. Although a very early composition, it demonstrates the composer's understanding of writing for the guitar and of its possibilities, confirmed in his later guitar pieces. Curiously Segovia never performed the Quatre pièces, which were found among his papers only in 2001.
More background on Berkeley and the guitar from Michael McCallie's doctoral dissertation, A Survey of the Solo Guitar Works Written for Julian Bream, on page 21 he writes:
Including the Sonatina, Lennox Berkeley composed five works for the guitar: Quatre pieces pour la guitare, Songs of the Half Light, Theme and Variations, Op. 77, Sonatina, Op. 52 No. 1, and the Guitar Concerto. Quatre pieces was written for Segovia, presumably while Berkeley was a student in Paris, although the maestro never performed them. The Songs of the Half Light were written for Julian Bream and Peter Pears, and were recorded on the RCA album Music for Voice and Guitar. Theme and Variations, Op. 77 was dedicated to the Italian guitarist, composer and scholar Angelo Gilardino, and the Sonatina and Guitar Concerto were written for Julian Bream. These works span Berkeley's entire career, giving guitarists a unique opportunity to explore the whole of the composer's oeuvre. In an interview conducted for this treatise, Angelo Gilardino commented on how the three solo pieces, Quatre pieces pour la guitar, Sonatina, Op. 52 No. 1 and Theme and Variations, Op. 77 fit within Berkeley's compositional output:

"They reflect three seasons of the composer's life. Quatre pieces are the work of a young musician who has already mastered the musical tools and who is full of enthusiasm; their connection with Spanish culture is open. Sonatina is a work of maturity, which shows the composer's balance between the Neoclassical mainstream and his personal, very direct way of shifting from joy to meditation without breaking a perfect unity of style; contrasts with no conflict. Theme and variations is a very subtle essay of sheer musical wisdom and of mild, peaceful poetic memory: the work of a great old artist." – Angelo Gilardino, interview by McCallie, Michael, E-mail, August 10, 2015.

The Guitar Concerto, Op. 88 written for Julian Bream, Berkeley's last concerto, is regarded by Berkeley scholar Peter Dickinson as one of the most successful works in Berkeley's late style; 61 a style that incorporates aspects of atonality within Berkeley's traditional idiom.
Joshua Moore Playing Theme and Variations Op.77 via GSI
Julian Bream Playing Theme and Variations Op.77