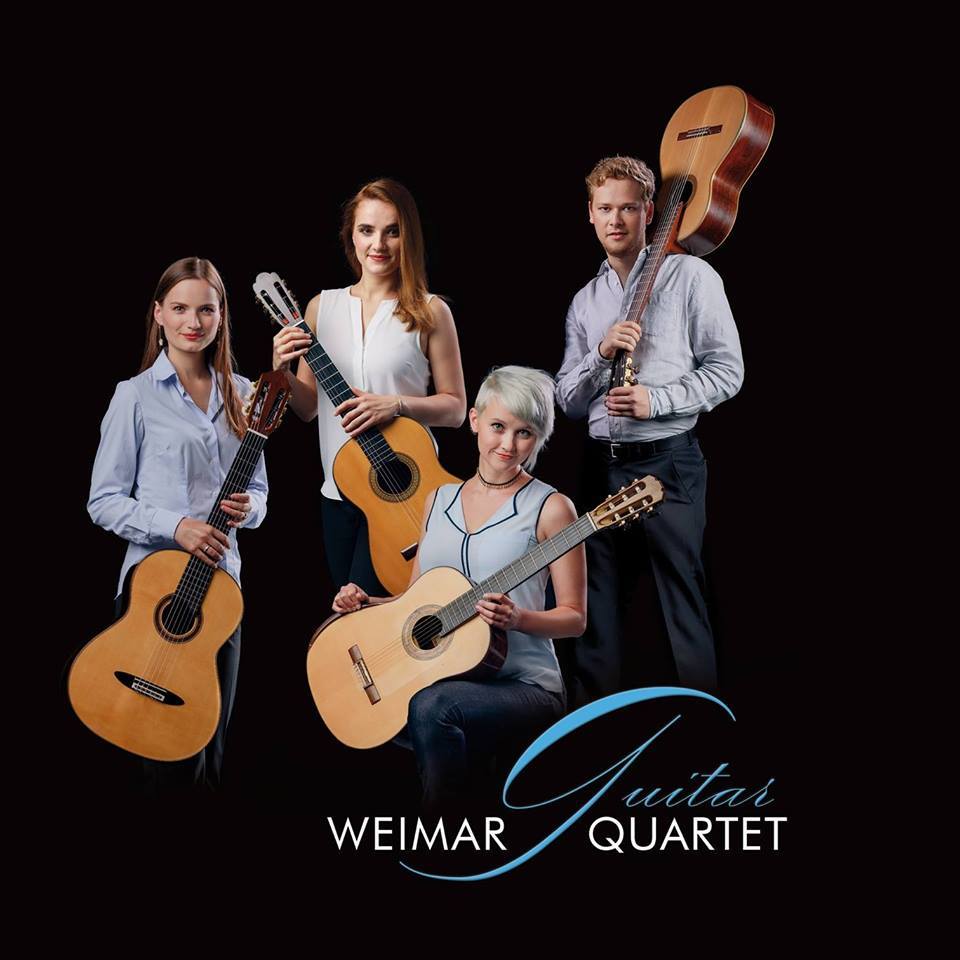 Weimar Guitar Quartet
Stephanie Jones, Hanna Link, Karmen Stendler, Jakob Schmidt
Weimar Guitar Quartet Website
Debut Album, Released 2019, Germany
Buy or Learn More via their website, or Amazon, iTunes, el al.
Having featured the Weimar Guitar Quartet and its members on the site numerous times, it's wonderful to see a debut album by this exciting young group. All amazing soloists in their own right, as a group they shine with great repertoire, excellent ensemble skills, and an elegant sound. This album was made possible in part by a successful crowd funding campaign; it's so good to see people supporting artists.
The mix of repertoire on the album is wide ranging but should be pleasing to both guitarists and general listeners. Special highlights for myself are the arrangements of Elizabethan Dances which highlight their control over sensitive imitation and counterpoint across the ensemble. Six Fish by Nigel Westlake offers very contrasting textures and colourful writing that works incredibly well on the guitar. The fun articulations, group dynamics, and flowing phrases showcase their professional ensemble skills. Nice bell-like tones and an overall blended sound makes for a convincing orchestration. Uarekena by Sergio Assad is of special note with intricate running lines and phrasing challenges resulting in an impressive finale.
This is a great debut album filled with what I imagine is the culmination of all the performance repertoire they've covered over the years. I'll certainly look forward to their next album which might benefit from a focused theme. I would love to see a new music album of commissions from young composers.
The Weimar Guitar Quartet's debut album is an exciting mix of repertoire filled with virtuosic performances by an amazing group of young artists. From pristine early music to extroverted modern risk, this group has it all. I can't imagine a more successful debut of a high level ensemble.
Album Repertoire
Nebulae by Olga Amelkina-Vera
Comme un tango by Patrick Roux
A Collection of Elizabethan Dances:

Des Rotschenken Tantz by William Brade
The Honeysuckle by Anthony Holborne
Fantaisie by Orlando Gibbons
Joyne Hands by Thomas Morley
Now is the Month of Maying by Thomas Morley
The Frog Galliard by Thomas Morley

Mélodie Op. 5, Nr. 4 by Fanny Hensel
Prelude & Fugue in F# minor by Clara Schumann
Six Fish by Nigel Westlake

11 – I. Guitar Fish
12 – II. Sunfish
13 – III. Spangled Emperor
14 – IV. Sling-Jaw Wrasse
15 – V. Leafy Sea-dragon
16 – VI. Flying Fish

Spin by Andrew York
Toccata by Leo Brouwer
Uarekena by Sergio Assad
Past Videos by the Weimar Guitar Quartet