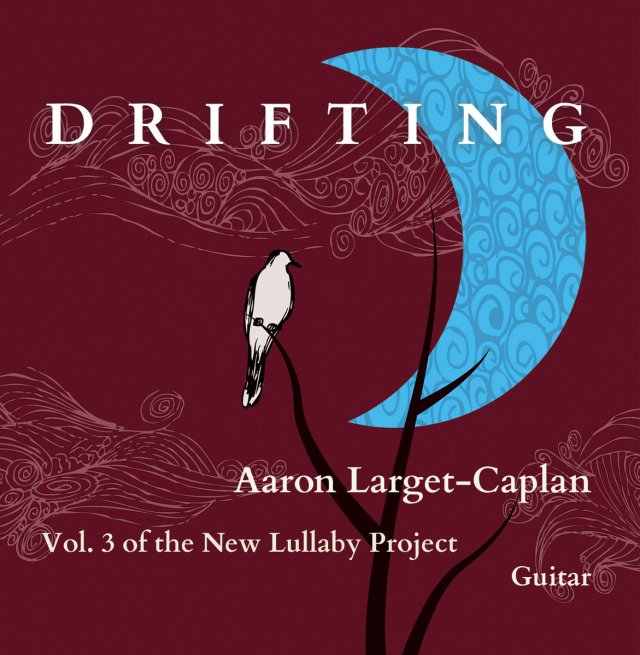 Drifting by Aaron Larget-Caplan
Vol.3 of the New Lullaby Project
Aaron Larget-Caplan, 2021.
New Lullaby Project
Stone Records
American Composers Alliance
[bandcamp width=100% height=120 album=3062163259 size=large bgcol=ffffff linkcol=0687f5 tracklist=false artwork=small]
Another fantastic volume from the New Lullaby Project by Aaron Larget-Caplan. The New Lullaby Project actively commissions new music lullabies by contemporary composers. It's amazing he's already on Volume 3, what a monumental amount of commissions and performances. He's also been publishing the sheet music as he goes (see below). With wonderful performances, beautiful compositions, and the scores allowing you to perform your favourite works, this is a must-follow project.
Buy or Listen to Samples: bandcamp, Spotify and more.
From the Liner Notes via bandcamp:
The requirements were simple: a beautiful 3-5minute guitar solo in the genre of a lullaby… a malleable definition. So simple and yet after 65 premieres by over 55 composers in nine countries, no two lullabies sound the same.

The New Lullaby Project began in 2007, and the 15 guitar solos featured on this album were written between 2010 and 2020. In the debut album New Lullaby (2010) the compositions can be divided into warm and safe versus dark and foreboding. Nights Transfigured (2020) highlights a wealth of compositional languages and extended techniques, while the lullabies are tinged with melancholy.

In Drifting, some plead to or reflect humanity, while others testify to a memory and affirmation of a time passed by. There are lullabies born from an improvisation (Rivchun), patience and hope in love (Turner), a nod to Francisco Tarrega (Pence) and sleeping beauty (Drozd). One was written while I gave a lecture (McDonald), and others inspired by a nodding head (Green) and a dancing baby (Veloso). Some tell us to let the day be (Scharf), others acknowledge the troubles that await outside of our dream world (Schreiner), and then we hear a prayer and plea (Odriozola/Warren) and touches of love and friendship (Trester/Wiese). All the time a gorgeous 12-tone lullaby (Mashak) sits quietly to be discovered. The compositional language leans tonal and the tuning remains mostly standard, but don't worry, harmonics still abound.
Repertoire
The Sleeping Guitar by Tim Pence
Counting Backwards by Anthony R. Green
Canción de Niñez by Frank E. Warren
Lullaby For Children Of The New World by Ricardo Odriozola
Drifting by Stefanie Lubkowski
White Potatoes by Charles Turner
Lulubye by Jacob Mashak
Seeketh Not Its Own by Ian Wiese
Lullaby For Letting The Day Be What It Is by Scott Scharf
Upward by John McDonald
Dreams by Boris Rivchun
Little Dancer by Michael J. Veloso
Dreamcatcher by Francine Trester
Le Belle Addormentate by Gerard Drozd
A Lullaby In Restless Times by Martin Max Schreiner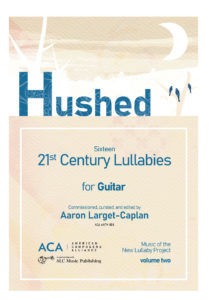 HUSHED – SCORES of the New Lullaby Project Anthology, Volume 2
Music of the New Lullaby Project, Volume Two
Sixteen 21st-century works for solo guitar.
Commissioned, curated, and edited by Aaron Larget-Caplan

The scores for the second volume of lullabies are available via the American Composers Alliance. You can also buy it along with other releases via his bandcamp merch store.