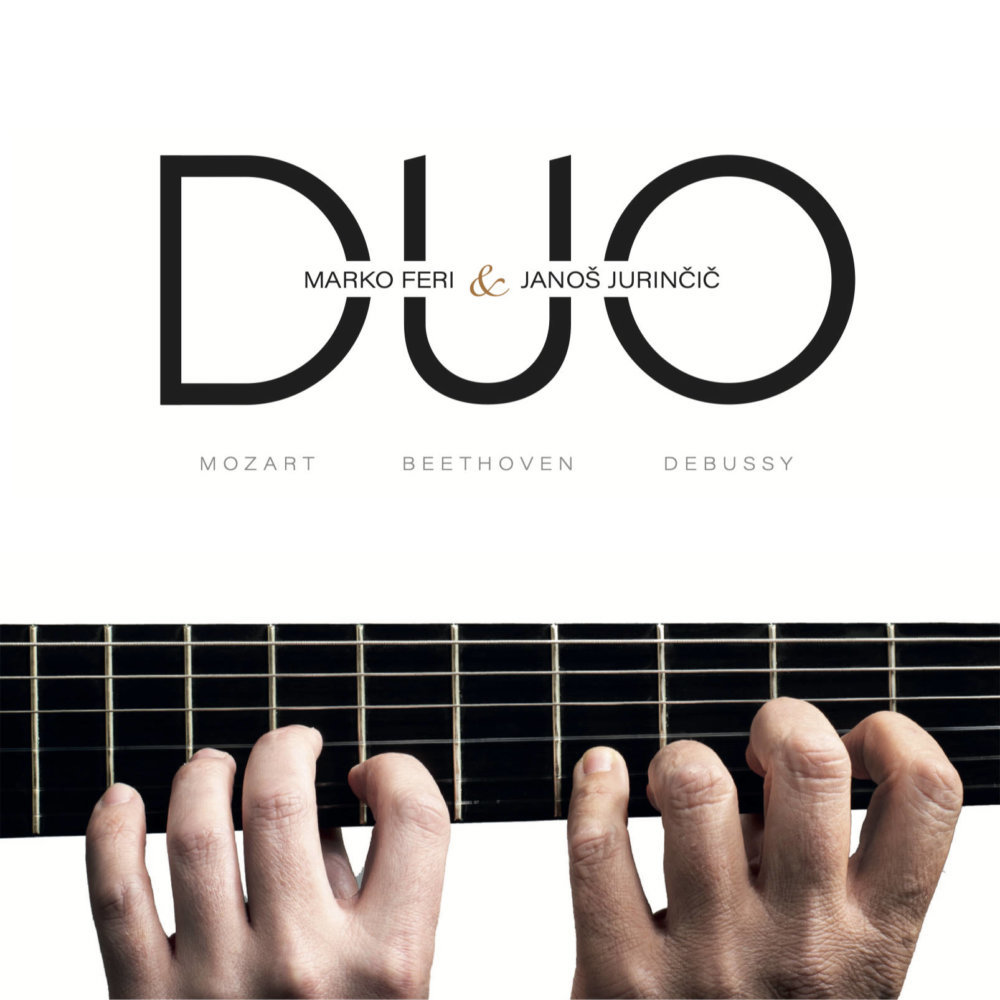 DUO – Mozart, Beethoven & Debussy
By Marko Feri & Janoš Jurinčič
Baros Records 2020
Buy, listen, or learn more about the album: Baros Records
Sheet music available via Baros Records
This is the last traditional review I'll be doing on the site before changing to a different format for recording promotions. So I'm very glad it is one of the best recordings I've ever reviewed! From great playing, excellent arranging, and pristine recording quality, this album has it all.
Marko Feri and Janoš Juriničič's new album titled DUO – Mozart, Beethoven & Debussy is an album of duo arrangements of iconic piano works by some of the greatest composers. I always love seeing what's new at Baros Records with producer and recording engineer Uros Baric who is well known for his high quality work. The album promo says it all: "Beautifully adapted for two guitars, this album reimagines many of the greatest keyboard works of all time." Below is a sample you can listen to as you check out more info.
I always have some hesitation when hearing piano repertoire on guitar but be not afraid here. To successfully play piano repertoire on guitar one needs a few important elements to make it work: a duo instead of a soloist, great arranging skills, and fantastic players. Luckily, this album has all three elements and the result is fantastic. Not only do Feri and Juriničič make it work, they make the repertoire sound at home on the guitar without any of the usual sacrifices of guitar arrangements.
Sonata No. 8 in A minor, K. 310 by Mozart – The duo takes a real guitaristic approach making this sonata sound as if it was written for 18th/19th century guitar duo. It's amazing how natural it sounds on two guitars. Mozart's operatic character-driven melodic writing benefits nicely from having one person per primary line with the ability to add appropriate phrasing and articulations. As always with Mozart, when some interaction between the melodic parts occur you also get some exciting duet climaxes. Also a special note of how well the duo blends their sound in the Presto, at times sounding like one player.
11 Bagatelles, Op. 119 by Beethoven – The compositional level of these Bagatelles is beyond what we usually hear in the guitar world and the duo appropriately takes on a more refined and balanced approach sounding a bit more pianistic than the Mozart arrangements. The expressive phrasing on guitar works really well and I don't find I'm missing anything. The duo's virtuosity on the more pianistic textures such as the Vivace moderato is super impressive. The ability to change between individual melodic lines and back to a balanced texture help the duo successfully reimagine the work for two guitars.
Children's Corner, L. 113 by Debussy – If you listen to just the first few seconds of, Doctor Gradus ad Parnassum, you'll understand how amazing the duo blends textures and phrases together. It's so impressively smooth and fluid despite the difficulty of the lines and the duo exchanges. As you listen, the virtuosity and expression only increases in waves filled with even more character. The entire suite is equally surprising in the range of motivic attention and virtuosic ensemble playing.
Conclusion
DUO – Mozart, Beethoven & Debussy by Marko Feri & Janoš Jurinčič is one of the most impressive guitar recordings I've heard. In terms of virtuosic performances, musical expression, and blending as an ensemble, the duo make these iconic piano compositions sound at home on the guitar. Guitar arrangements of piano works are a dangerous endeavour but the duo add a wealth of motivic character that benefit the works in a unique way rather than merely arrange them for guitar. I am super exciting to hear more and look forward to some live performances by this top notch duo.
---
Repetoire:
Wolfgang Amadeus Mozart (1756–1791)
Sonata No. 8 in A minor, K. 310: I. Allegro maestoso (09:06)
Sonata No. 8 in A minor, K. 310: II. Andante cantabile con espressione (09:59)
Sonata No. 8 in A minor, K. 310: III. Presto (03:29)
Ludwig Van Beethoven (1770–1827)
11 Bagatelles, Op. 119: I. Allegretto (02:23)
11 Bagatelles, Op. 119: IV. Andante cantabile (01:42)
11 Bagatelles, Op. 119: VIII. Moderato cantabile (01:27)
11 Bagatelles, Op. 119: IX. Vivace moderato (00:37)
11 Bagatelles, Op. 119: X. Allegramente (00:14)
11 Bagatelles, Op. 119: XI. Andante ma non troppo (01:42)
6 Bagatelles, Op. 126: I. Andante con moto cantabile e compiacevole (03:56)
6 Bagatelles, Op. 126: II. Allegro (03:12)
6 Bagatelles, Op. 126: V. Quasi allegretto (02:45)
Claude Debussy (1862–1918)
Children's Corner, L. 113: I. Doctor Gradus ad Parnassum (02:25)
Children's Corner, L. 113: II. Jimbo's Lullaby (03:28)
Children's Corner, L. 113: III. Serenade for the Doll (02:23)
Children's Corner, L. 113: IV. The Snow is Dancing (02:33)
Children's Corner, L. 113: V. The Little Shepherd (02:31)
Children's Corner, L. 113: VI. Golliwogg's Cakewalk (02:59)
Préludes, Book 1, L. 117: VI. Des pas sur la neige (04:20)
Préludes, Book 1, L. 117: VIII.La fille aux cheveux de lin (02:53)
Préludes, Book 1, L. 117: IX. La sérénade interrompue (02:46)
Préludes, Book 1, L. 117: XII. Minstrels (02:37)