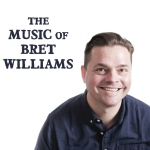 If you are not already familiar with Bret Williams, he is a fantastic guitarist but also has an excellent podcast called Classical Guitar Insider. Bret left a comment on a post of him playing the other day explaining the program:
"Another thing I did was to start a podcast called Classical Guitar Insider. I've interviewed about 45 guitarists over the course of about a year and a half. It's funny and irreverent and features some of the biggest names in our industry with Adam Holzman coming out this Friday. You can go to BretWilliamsMusic.com to purchase the album. To check out all 44 of my free podcast episodes go to BretWilliamsMusic.com/category/ClassicalGuitarInsider"
Check out Classical Guitar Insider today. I just listened to the Benjamin Verdery interview…very interesting and informative. Also, Bret has a new album coming out which I'll post about soon!
Thanks for all your efforts Bret!