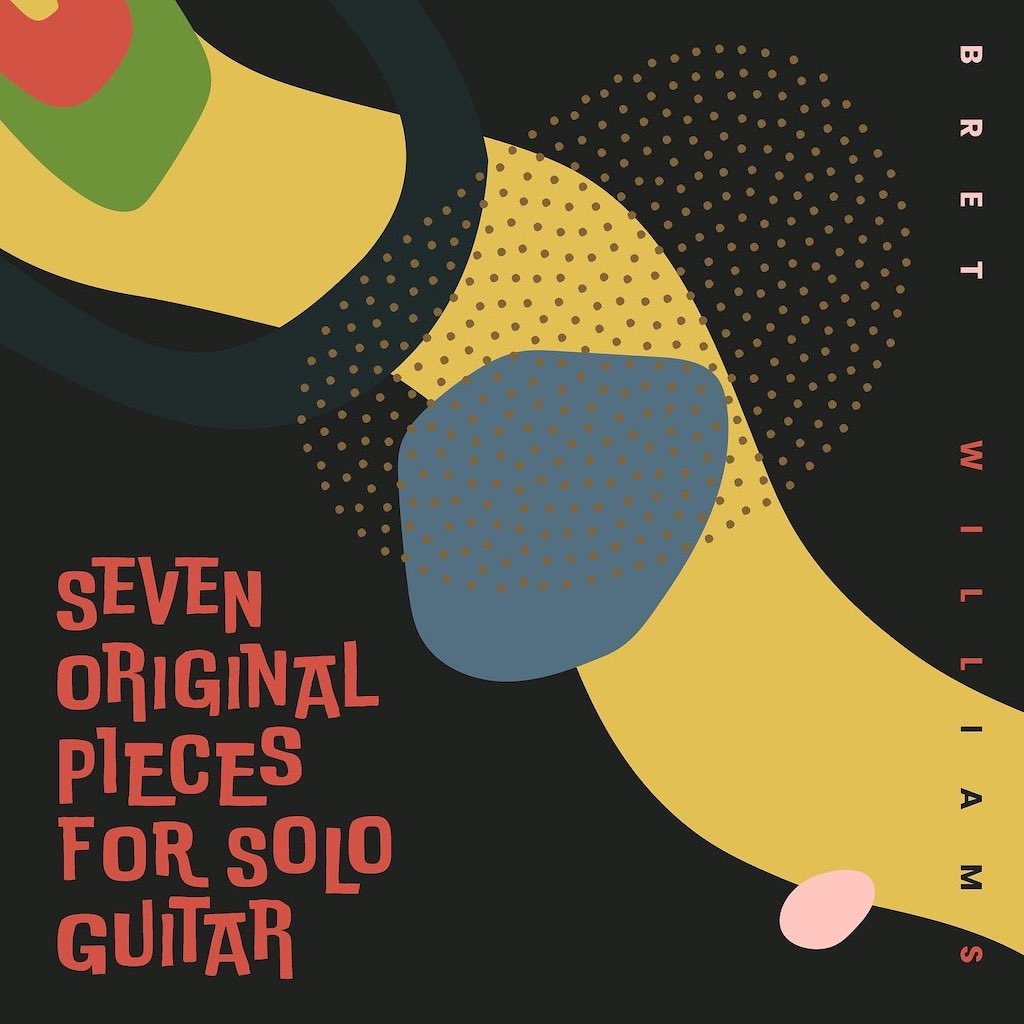 Seven Original Pieces for Solo Guitar
By Bret Williams
Buy or Listen via: Spotify, iTunes, Amazon
Nice to hear Bret Williams performing and composing on his new album, Seven Original Pieces for Solo Guitar. I've featured Bret on the site a few times before but you might already know him via his amazing podcast Classical Guitar Insider where you can listen to 133 episodes of classical guitar goodness. The album is filled with beautiful works reminding me of a mix of classical and jazz composition worlds, Latin grooves, and modern language. Very listenable but not without some occasional dissonant bite, reminiscent of Dyens and even a little touch of Metheny. There are also some very cool blues/rock inspired lines on Aww Wait! (Hendrix would be proud). Nice phrasing and rhythmic momentum by Williams complement these harmonically rich works. His intricate guitar lines always mix well with sweeping musical phrases. Hopefully we can look forward to a publication of the scores. Make sure to read the album promo below for some extra-musical inspiration about the album.
Album Promo: "Seven Original Pieces for Solo Guitar is the culmination of an impressive body work by guitarist Bret Williams, a Brooklyn–based composer, educator, and host of the Classical Guitar Insider podcast (est. 2013, currently 133 episodes). Williams studied guitar performance at The University of Texas at Austin and the Mannes School of Music, and holds a Masters of Music degree. A diagnosis of Focal dystonia, a neurological motor disorder with no known cure, forced him to adapt to a new style of playing early in his career. The album is a reflection on his journey to gaining trust in his hands, expanding his talent to include composition, and returning to the concert stage. Williams is sponsored by D'Addario strings."
Video Performance by Bret Williams
Album Repertoire
I Guess I'll Make Myself Happy
No One Needs Love When They Are on a Plant-Based Diet
A Person of Questionable Temperament
That Book About the Fig Tree
Aww Wait!
Give Us a Minute
Where Should We Live?