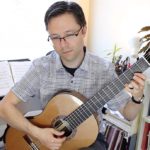 Asturias (Leyenda) Theme by Albeniz for Classical Guitar
From: Classical Guitar Method Vol I • Beginner. Notation, 80 pg: Free PDF
Level: Easy, Beginner
This lesson is for my graded repertoire lesson series which you can find halfway down the lesson archive page. When I teach guitar I have the student set up a model for technique and then they try to maintain that model when playing pieces. Therefore, straightforward pieces without too many weird shapes and stretches are very important for beginner to around grade 3 level students. This excludes many pieces but as a core set of works it is important.
This piece is the theme from this more difficult work (see the advanced full version here). It is a great piece for students to practice a melody in the bass voice. You might want to practice the bass voice all on its own (leave out the top repeated E's). As a check point for my students I have them play The Swan, Leyenda Theme, then Siciliano. This helps them to understand melodies in the top voice then the lower and to balance the music accordingly.