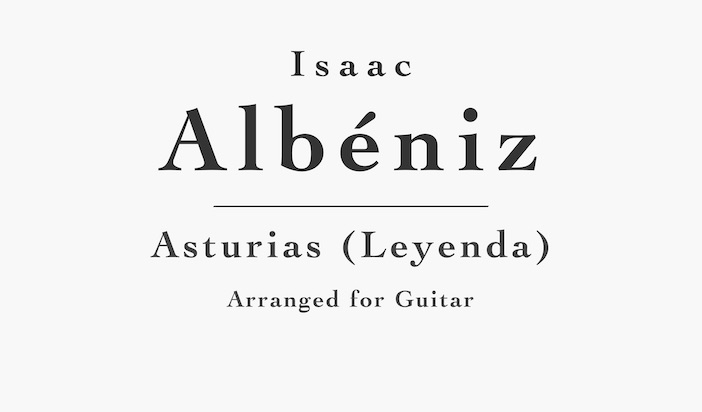 Asturias (Leyenda) – No. 5 from Suite Española, Op. 47 by Isaac Albéniz (1860-1909).  Arranged for Classical Guitar. The level is fairly advanced (Grade 10). The notation PDF is free and if you want to purchase the TAB it is available. I've based this mainly on arrangement on the piano score and a straightforward approach without cheap effects etc. Isaac Albéniz was a Spanish pianist, composer, and conductor. He is one of the foremost Spanish composers of the Post-Romantic era. He is best known for his piano works based on Spanish folk music idioms. He actually never wrote guitar music but was certainly influenced by it which explains why this work actually sit on guitar nicely (tremolo is quite difficult on keyboard). You can also find the tab as a hardcopy in my Classical Guitar Tab book on Amazon. Join the Email Newsletter to get updates or help support the site & free music.
Free PDF Notation Edition
Free Unfingered Edition
TAB Edition (PDF Download)
Video Lessons & Performances of Asturias
My video lesson on for Asturias, 40min of walk-through and discussion. Watch Pepe Romero's video below for a very similar performance of my edition. Youtube video lesson link (HD). FYI, bar 42 in the video I accidentally play a high E instead of C so follow the score there as it is correct.
Pepe Romero's fingering is very close to my edition, the upward arpeggios at 59 are different, but especially the inner rubato section with chords instead of harmonics is super similar. I'd start here.
Williams: I grew up listening to John Williams and still like his direct and rhythm approach.
Bustos: I like lots of what Busto's is doing here but it's different as are the following.