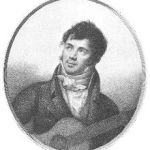 Free sheet music facsimile edition of Fernando Sor's (1778–1839) Studies for Guitar Op. 60. He called it something along the lines of "Introduction to the Study of the Guitar in Twenty-five Progressive Lessons. It's for beginners to intermediate players.
• Fernando Sor: Studies Opus 60 Free PDF
If you want a modern edition I recommend the complete Sor Studies for Guitar (Mel Bay – Grimes) which is a bit cleaner and more modern in fingering. It's a good one to have in the collection.
Sheet Music and Tab by Sor on this Site (Modern Editions)