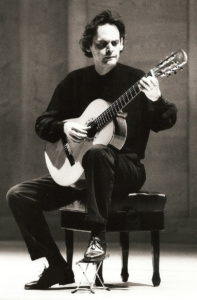 This page lists works and publications of classical guitar sheet music and tab editions for Roland Dyens.
Roland Dyens (1955–2016) was an influential French classical guitarist, composer, and arranger. Know for his amazing performance flare and abilities as well as his numerous compositions and arrangements. Dyens released several volumes of arrangements that included not only the classical music but also of Brazilian music, jazz standards, French pop, and the Gypsy jazz. Tango en Skaï (1985), is one of his best-known pieces, but also widely played is the more extended Libra Sonatine (1986). He taught at Conservatoire National Supérieur de Musique. He died on October 29, 2016 at the age of 61.
Popular Roland Dyens Sheet Music and Tab Editions (Solo Works)
The below links go to Amazon or Sheet Music Plus, my most trusted stores.
Popular Roland Dyens Sheet Music (Ensemble Works)
More Works to be linked (under construction)
Alba Nera (solo guitar)
Aria (guitar quintet)
Concertino de Nürtingen (solo guitar & guitar ensemble)
Concerto en si (solo guitar & guitar ensemble)
Concerto métis (guitar & piano)
Concerto métis (solo guitar & string orchestra)
Concertomaggio (2 guitars and string orchestra)
Eloge de Léo Brouwer (solo guitar)
El último recuerdo (solo guitar)
Hamsa (4 guitars or guitar ensemble)
L.B. Story (solo guitar)
Lulla by Melissa (solo guitar)
Mambo des Nuances et Lille Song (solo guitar)
Muguet et L'Allusive (solo guitar)
Rythmaginaires (guitar octet)
Santo Tirso (solo guitar)
Triaela (solo guitar)
Trois (3) pièces polyglottes – Valse des loges, Flying Wigs & Sols d'Ièze (solo guitar)
Variations sur un thème de la "Flûte Enchantée" Mozart/ Sor (4 guitars or guitar ensemble)
Ville d'Avril (solo guitar)
Articles and Videos on Roland Dyens
Photo Credit (top of page) – By Hans Bernhard (Schnobby) – Own work, CC BY-SA 3.0,