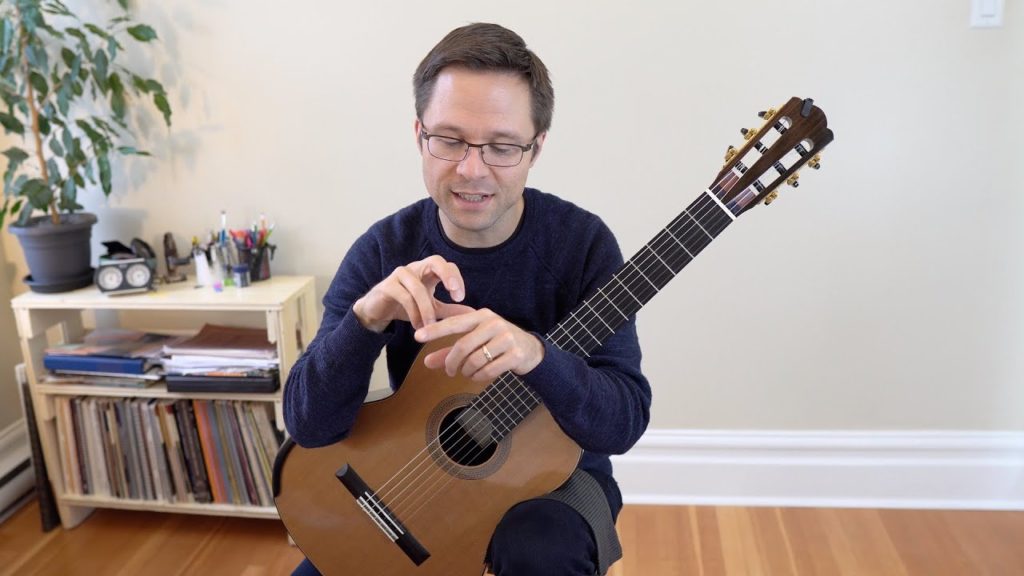 Thanks to everyone who viewed and supported the site in 2019. This is an update on the past year and what's next for This is Classical Guitar in 2020. Plus, expect more silly pictures of me playing with my fingers as above.
How's the site doing?
Overall the site is going great and I'm very happy with it, especially the educational book series so far (see below). It's become a full time job so I'm quite overworked but it's still fun which is important.
Web traffic (number of visitors) is a bit down which is disappointing but subscribers to the newsletter and YouTube are WAY up so that kind of balances it out. Social media and corporations are really eating into the open web but there's still people subscribing (share the site with your friends!). My free sheet music used to bring in a lot of traffic but I think the future is going to be in sites like Musescore, IMSLP, and other large-scale organizations which will dominate by the sheer number of people doing great work. They need a rating system though because it's hard to know what to trust. As always, the quality of free content on the web is hit and miss so I'll be focusing more and more on ultra high quality editions with performer notes and dedicated video lessons and performances of the pieces which is still something not many people do (surprisingly).
I've received so much positive feedback about the site this year that I'm feeling that the quality and loyalty of my subscribers is second to none. Plus, the newsletter is just packed with great people wanting a weekly dose of classical guitar. Thank you to all who follow me online.
New and Updated Stuff
Unfingered Scores – I want to continue to add unfingered editions in addition to the fully fingered stuff so teachers and advanced players can create their own. Just super clean scores without all the guitar markups.
New and Updated Lessons – I'll be continuing to post new video lessons but also updating some old ones with better quality video
Micro-Tips – This is something I really want to focus on this year. Small and concise tips that zero-in on a specific topic. I want to keep the site more active with these and eventually cover a large scope of ideas from technique to practice tips.
Early music reading, arranging, and performance – How to read lute and early guitar tablature and music as well as period performance practice and interpretation.
Reviews – I've been so busy that there were not many reviews last year. I'm going to have a new format for reviews that will be more like micro-reviews or snapshot promos so I can streamline the process.
Skype or Video Lessons: I still haven't figure out a solution to giving individuals one-on-one lessons. It's a time constrait issue. I'll be brainstorming up ideas though so expect something interesting and creative to appear.
Education Series
I'll be continuing work on my education series. Instead of a paywall, I've decided on 100% free lessons for all my books. This way for a small price of you can enjoy a year's worth of video lessons and practice. I think the value is very high in comparison to paywall sites so that's the plan. Plus it's great for me because I can just give you what you want and need without maintaining memberships or denying the lessons to those without the funds for a monthly fee.
Grade 4 Repertoire Lessons is the next book coming.
So far the Education Series includes
Interest articles
This will be a new category on the site called Interest Articles. These will not be specific guitar lessons but more about watching and absorbing culture. The lesson page has SO much on it that it is time to create a place for stuff like this. I want a page filled with super interesting articles and videos that are not specifically lessons. For those late nights when theses nothing to do!
Friends of This is Classical Guitar & People to Follow
Now that the site has a larger following I feel it's time to help expose the other great content I love and follow via the Links Page. From Siccas Guitars, GSI and even individual players and emerging young professionals. I want to create a way to link to them, promote them, give their videos a viewer boost and more. I'd also like to help boost the rating of great sites like Classical Guitar Corner, Open Strings Berlin, or Baros Records because I know that we can all follow more than one site. I want to help you find great stuff.
Look forward to it all and keep an eye on the site by subscribing to the email newsletter for updates.