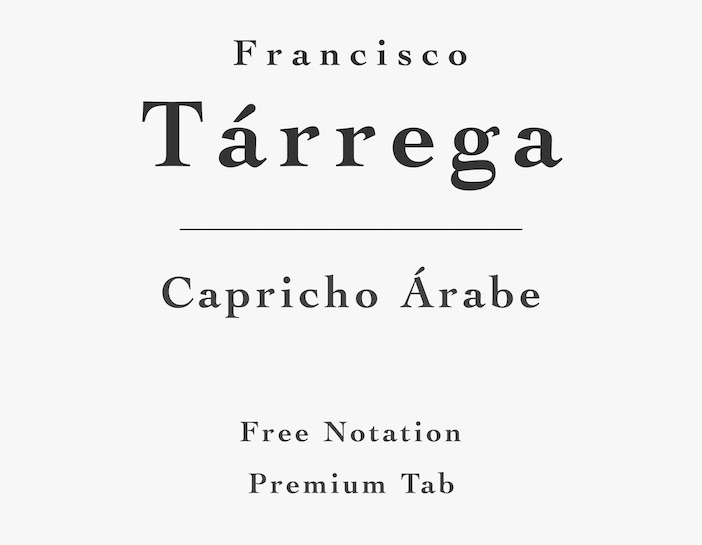 Capricho Árabe by Francisco Tárrega (1852–1909), Serenata para Guitarra, Al eminente maestra Tomas Breton – Free Sheet Music for Classical Guitar in Notation or Premium Notation + Tablature (TAB). PDF Download. The level is approximately Advanced (Grade 9). YouTube Lesson Link.
Here's a free sheet music edition of one of Francisco Tárrega's (1852–1909) most famous works. It has become one of his most popular works due to it rich and dark sound as well as strong melodic lines. I've made a free copy to attract guitarists to the site and a tablature (tab) version for those who need it. This work is often played by professionals but it's not so hard that students and intermediate players can't get through it. You can also find the tab as a hardcopy in my Classical Guitar Tab book on Amazon. Join the Email Newsletter to get updates on free sheet music and more. Please consider donating to support the site.
Free Sheet Music Edition (Fingered)
Free Unfingered Edition
TAB Edition (PDF)
Performance Videos and Lesson
Here is a lesson on the piece but check out the performances below.
I recommend this video of Marcin Dylla playing Capricho Árabe. This come via Siccas Guitars and their YouTube. Almost the same fingerings.
Also see this nice performance. Different fingerings but good ones too. Capricho Arabe – Francisco Tárrega played by Sanel Redzic
Nice phrasing by Ana Vidovic via Siccas Guitars and their YouTube channel.