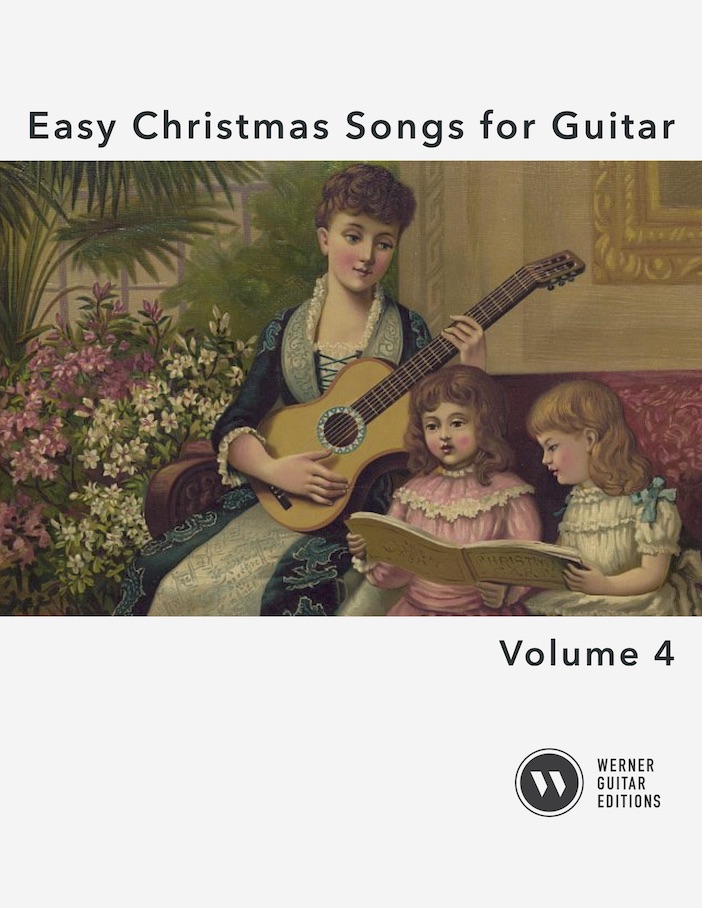 Easy Christmas Songs for Guitar Volume 4 – Solo Fingerstyle Arrangements with Lyrics & Chords. Comes with two editions: Notation Edition and Notation + TAB edition. PDF Download, some minimal left hand fingering.
Songs: All Through the Night; Joy to the World; O Christmas Tree (O Tannenbaum); Angels We have Heard on High; O little Town of Bethlehem.
About This Collection – Easy Level: Melody + Bass Notes + Common Chord Shapes. These are basically just the melody with the bass note of the chords added and a few added chords here and there. These easy Christmas arrangements are for beginner or intermediate guitarists looking for sight-readable songs for the holiday season. I've added the lyrics and chords to make them as useful as possible in group or family settings if singing occurs. More advanced guitarists may wish to improvise or work-out intros and extra accompaniment. Otherwise, the arrangements are simple melodies plus bass notes and some filling out of common first position chords.
Easy Christmas Volume 4 (PDF Download)
Buy the Complete Set (Volumes 1-4) – Hardcopy
Video of all 5 Christmas Songs
Videos of Each Individual Christmas Song
YouTube Links:
Explore the other Christmas Volumes