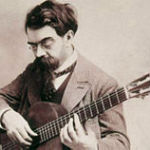 Francisco Tárrega (1852–1909) – PDF Sheet Music or Tab for Classical Guitar. Includes free video lessons and performances. "Historically Francisco Tárrega is of immense significance in the development of the guitar over the last two centuries, in terms of both technical innovations and compositions… Francisco Tárrega was the most influential Spanish virtuoso performer of the nineteenth century. His output was modest, with just 78 original scores and 120 transcriptions—mostly for his own use—of the great classical compositions. Tárrega was also the first great arranger for guitar, transcribing works from composers such as J.S. Bach, Beethoven, Berlioz, Chopin, Grieg, Handel, Haydn, Mozart, Schubert, Schumann, and Wagner, as well as pieces from Albéniz and Malats and other Spanish contemporaries." (Bio via Naxos)
From This is Classical Guitar – These are scores created by this site and are highly recommended quality-wise. These links also include videos.
Tarrega: Estudio / Study in C, Grade 3,

Free Notation

Tarrega: Estudio in E Minor, Grade 3,

Free Notation

Tarrega: Adelita (Mazurca), Grade 6
Tarrega: Lágrima (Tear), Grade 4
Tarrega: Maria – Gavota, Grade 7-8
Tarrega: Marieta, Mazurka, Grade 7
Tarrega: Capricho Árabe, Grade 9,

Free Notation

Tarrega: Gran Vals, Grade 9
Tarrega: Recuerdos de la Alhambra, Grade 9,

Free Notation

Tarrega Rosita (Polka), Grade 7-8
Print Editions on Amazon
Videos Featured on the Site
Free Public Domain Scores
These come from the IMSLP archive. These are free PDF's to download and all are public domain PDFs. These are often historical publications so, although old and sometimes outdated, they are good sources to research and play/check.
---