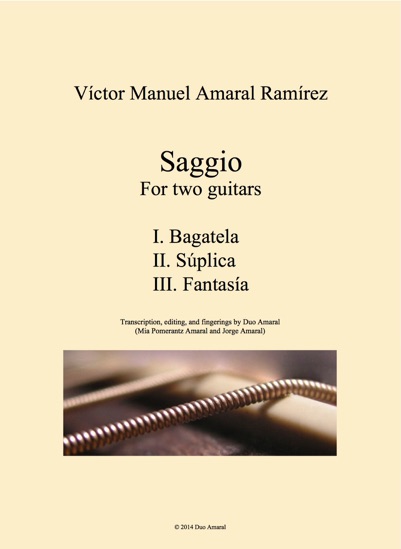 Saggio by Victor Manuel Amaral Ramierz
Edited and arranged for two guitars by Duo Amaral
Website: duoamaral.com
Score available by request here.
$20 USD plus shipping
I'm happy to share this publication by the fantastic Duo Amaral (Jorge Amaral and Mia Pomerantz-Amaral). I previously reviewed their album Súplica which included this great piece and premiere Saggio by Victor Manuel Amaral Ramierz (b. 1933) who is the father of Jorge Amaral. It is now available in a beautiful score published by Duo Amaral themselves. Transcription, editing, and fingerings by Duo Amaral.
Saggio is a collection of independent pieces transcribed for duo as one work in three movements: Bagatela (originally for piano), Súplica (cello & piano), and Fantasia (violin & piano). The music is a mix of various influences from Gregorian chant, French impressionism, to Mexican mariachi but do hold together as a group. You can listen to samples of each movement here: cdbaby.com/cd/duoamaral.
The print work is beautiful for this score. The paper grade and printing look great and the notation is super clean. The music is lightly fingered but all the tricky parts are well covered. Dynamic markings and shaping are well marked and clear throughout. You'd be hard-pressed to find this quality level from a major publisher. Maybe due to the family connection they put some extra work into this publication.
With excellent print quality, interesting music, and clear editorial work, Saggio is a welcomed contribution to the duo repertoire.