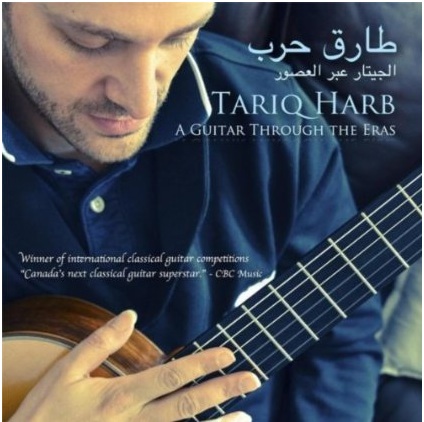 Artist Website: tariqharb.com
Listen to samples or buy from Amazon: Tariq Harb: A Guitar Through the Eras
Producers: Patrick Kearney, Tariq Harb
Recording Engineer: Adam Pietrykowski
Studio: LaFlame Studios. Montreal, Quebec, Canada.
Mastering Engineer: Drew Henderson
Repertoire:
Fantasia No.7 by John Dowland (1563-1626)
Lute Suite No.2, BWV 997 by J.S. Bach (1685-1750)
Sonata Eroica by Mauro Giuliani (1781-1829)
Suite Española No.1, Op.47: Asturias by Issac Albéniz (1860-1909)
Pensamiento Español by José Brocá (1805-1882)
Élégie pour la stele d'un inconnu by Takashi Ogawa (b.1960)
Usher Waltz, Op. 29 by Nikita Koshkin (b. 1956)
Review, February, 2014, thisisclassicalguitar.com
Tariq Harb is one of the most featured guitarists on this site so that pretty much guarantees a positive and glowing review. That should be no surprise, if you peak at his YouTube channel he has 149 great videos so hearing him in the studio is a treat. If you don't know Tariq Harb, he has been making news as a winner of competitions such as the Barrios WorldWideWeb Competition, Montréal International Classical Guitar Competition, and Second-Prize winner in the Tokyo 55th International Classical Guitar Competition. You might have also seen him as a presenter on TEDGlobal 2013. Born in Jordan, Harb is currently based in Canada having completed his Masters at McGill University and pursuing/completing a Doctorate in Musical Arts at the University of Toronto. He is a La Bella Strings Artist.
Harb's current offering, A Guitar Through the Eras, showcases popular guitar repertoire spanning the renaissance to contemporary times. Much of the material has been recorded plenty of times but it was nice to see the Brocá and Ogawa on the album so it didn't just turn out to be a greatest hits album.
Always nice to hear the beautiful Dowland Fantasia and Harb pulls it off wonderfully. I really like his ornaments and comfortable dance feel. I enjoyed the many articulations and colour changes although I could be happy with or without them since the music is so nice on its own. I wonder if a softer right hand touch could have been nice here? However, I also appreciate that he is playing out and giving the work the energy and excitement it deserves. The Bach Suite is certainly one of the most difficult works to pull off on guitar but Harb handles it well. I'm not sure I loved that harmonic at the beginning if my ear serves me correctly! However, one of the things I like about Harb is that he is pretty fearless and is very open and sharing on his instrument. I don't think he micro-manages his sound but that can result in exciting recordings where the artist doesn't hold back. In the sequences and articulations he makes the musical ideas ultra clear and extroverted. The result? It sounds fresh to me and it really kept me interested. Most players just try to get through this massive work without pissing anyone off but Harb has added some personality and the effect is great. This works particularly well in the fugue where the subject gets nicely highlighted.
The Giuliani sounds Breamian to me (I mean that as a high compliment). Lots of good energy here and sharp contrasts to match the varied musical moods. Some blazing virtuosity in this one. The Albéniz is super strong and fast too. I like the spacious rubato in the slower section. Very natural and Spanish sounding. Overall a very good contribution to one of the most recorded works. The work by Brocá is Romantic to the max! Harb excels with works such as this one as he has the chops to pull off the flourishes without any hesitation.
I was very happy to hear the work by Takashi Ogawa as it is a real contribution to the guitar repertoire. Harb showcases a more musically mature side of his interpretation skills in this work. The other works on the album have so much momentum that it is not noticeable but here he has to balance the motifs with broad pacing; magical stuff! The second half of the work is a sharp contrast with extreme articulations and exactitude in playing which Harb pulls off with ease. The final work, Usher Waltz, by Nikita Koshkin is a modern classic. Harb nails it both from a playing and interpretive perspective. Again, his technical prowess allows him to break the barriers and descend into madness without holding back.
I don't have much to be critical about as I like Harb's playing overall. I particularly like how he 'plays out' which can be tricky with microphones. Many players switch to a light and careful style in the studio but Harb sounds more like a live guitarist. However, for those listeners looking for pristine consistency of sound in the right hand, you'll instead get the variety and energy of the guitar being played out. This might be partly due to the close mics picking up a good deal of the fingers on the strings. Plus, Harb likes to clarify his musical ideas with articulations and slight colour changes, nothing drastic, but you get lots of variety. Overall, I like his approach as it is filled with ideas and, again, he does not micro-manage his playing which leads many players to strangle. The recording sounds good and the playing is superb to my ear. The modern studio sound fits this album nicely as it is a balance of warmth and clarity to suit the variety of repertoire.
Conclusion: Tariq Harb delivers an album of classics and new treats to delight listeners. Interesting and clear musical ideas meet with brilliant virtuosity to make Harb's performances exciting and refreshing. High quality production levels and beloved repertoire make this is a very desirable album for any listener.
Tariq Harb is one of the most interesting guitarists to follow today. Whether listening to his recordings, YouTube channel, or live performances, he is not to be ignored as a rising star of the guitar.
Artist Website: tariqharb.com
Listen to samples or buy from Amazon: Tariq Harb: A Guitar Through the Eras