Here is a list of classical guitar accessories and gear. Links go to amazon.com.
Guitar Accessories & Technology
Kling-on Non-Slip Stabilizer (no link)
For the bottom side of guitar to stop it from sliping on your leg…I'll never stop using these…
Planet Waves Classical Guitar Capo
My Favorite guitar capo. Simple and sleek design.
Guitar Tuners
Tons of great tuners. I like the tiny D'Addario Micro Tuner because of it's size but it depends what you want. If you don't perform a ton just get a bigger one that is easier to see.  These simple clip-on tuners read the vibrations in the wood so you can tune even if there is other sound nearby. They are a JOY.
Guitar Humidifier with Digital Humidity & Temperature sensor
The whole package.
D'Addario Guitar Humidifier or the Oasis Guitar Humidifier or Oasis Case Humidifier
Just say no to guitar crack.
Zoom Recorders
Awesome sound recorders ranging from $99-UP…also check the recorders with video. I use these to record every concert, my students performing, and as a practice tool…They are one of the best tools I use as a musician.
Kling-On Static Guitar Protector Products
I love these products. Protects your guitar or make suction cups stick better. There's an array of types.
Guitar Support Supports
Check out my review of various Ergonomic Guitar Rests, Supports, Cushions
Fingernail Gear
Revlon Crystal Nail File – I use this instead of the 2 shaping sides below. Then polish with the buffer sides on the revlon shape & buff.
Revlon Shape'N Buff (3-Pack) has four high quality buffing surfaces to smooth nails and two filing surfaces to shape and finish nails.
Healthy Hoof Intensive Protein Treatment – this is great for two reasons. One, it keeps the nails moisturized which will stop the nail from cracking or breaking. Two, the protein help the nail grow thick and strong.
Healthy Hoof Lacquer + Protein Treatment: high gloss protectant, leaves an ultra shiny, satin finish with a strong UV protectant for strong, healthy nails
Travel & Fun:
These are fun little guys, about the size of the ukulele but with six strings. See my review here or just check it out on Amazon: Yamaha Guitalele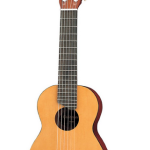 Good Ol' Wooden Foot-Stool
Here's a nice wooden foot-stool for guitar. Classic. It can hurt your back if you play for hours but many us grew up with them so we are warped enough now that it has no affect!  I think the security we feel with a foot-stool comes from the four contact points (leg, leg, chest, arm).