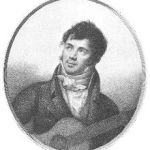 Fernando Sor (1778–1839) – PDF sheet music or tab for classical guitar with free videos and lessons of his studies, etudes, and pieces. Modern and public domain sheet music PDF's of Sor's classical guitar works from easy to advanced. Sor wrote many studies (etudes) for classical guitar and below are a selection of sheet music editions but mostly free public domain PDFs. These are facsimiles that is, period editions and out of dates editions too. I've tried to choose only the best ones. A virtuoso performer and composer, Fernando Sor was famed in his day and well remembered today. Sor studies vary greatly in their pedagogical use, some are exercises while others shy away from the etude aspect and are simply nice compositions. Sor studies may not be remembered for their compositional genius but they do require a special classical touch to bring out the musicality of the studies – maybe the main reason they are heavily used in guitar pedagogy. Help support the site & free music by supporting the site.
Sheet Music or Tab from This is Classical Guitar (with video lessons)
Two of my Favourite Sor Studies
Print Editions from Amazon (Notation or Tab)
Free PDF Sheet Music of Sor Studies
Public Domain versions
Looking for Fernando Sor pieces in TAB with Video Lessons?
---