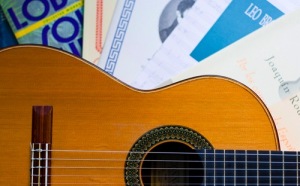 There are a number of important considerations when buying a beginner or entry level classical guitar. You need to consider everything from ease of playability to precision manufacturing to the sound. However, as a teacher I often look at playability and precision for a student's first instrument. Why? Well if the guitar is hard to play then learning to play will also be hard.
The price range is a mix between deals I've found on Amazon and at stores and the list price.
If you decide to buy please consider clicking my Amazon links the same day to help fund the site.
Most Recommended Classical Guitars for Beginners:
Yamaha and Cordoba: I usually recommend Yamaha's to students because they are built with precision and the quality is very consistent. Are they the best? Well, they feel good to play and for a student guitar they work very well. They have a mellow sound which is good for students as well. However, Cordoba is starting to really change my mind. The Cordoba's I've seen so far are fantastic and I'm increasingly turning to them to a great sound and solid materials.
Yamaha C40 Classical Guitar Price Range $140-200
If you are on a budget then this one is for you. It's still well built which is why it is such a good bargain for your dollar. If you can afford a better model then you'll sound will be a bit more elegant and the playability a bit more smooth. Concerts might be better too. However, if you just need something to practice on and get you started these guitars will do the job for an amazing price! I always recommend this guitar to beginner students on a budget and I'm always impressed with what you can get for under $200. It's not a refined sound but it's a great working guitar.
Bottom Line: Solid, well built, never disappointed. Laminate wood too bad.
Cordoba CM3 Classical Guitar Price Range – $200-250 (TOP MARKS)
A solid cedar top makes this guitar just a bit more enticing than the Yamaha.I like Cordoba as a company and so far this is my new absolute beginner recommendation.
Bottom line: Nice sound, loud, easy to play. Solid Top is a plus.
Yamaha CG Series CG122 Classical Guitar, Natural Price Range: $200-250
If you can jump up a level from the C40 then you're a bit more on track. This is the middle ground for Yamaha offering a decent playability, sound, and price. It's a nice step up from the C40 in sound in case the student is going to perform. Solid top.
Cordoba C5 Classical Guitar Price: $300-$350 (TOP MARKS)
With a solid top this one has some nice touches. In the end, with laminate back mahogany is fine choice and I don't think paying the extra for a different laminate is worth it.
Bottom Line: Everything you need plus some extra.
Cordoba C7 CD Classical Guitar Price Range: $475-650 (TOP MARKS)
This is great because you get a solid cedar top and laminate Indian rosewood back and sides. This is a fantastic guitar for a beginner or intermediate which should last you until you are ready for a jump to an advanced guitar. In general, this is going to be louder and more refined a sound than the cheap Yamahas but the price is a jump up. Then again, who wants to buy another guitar a year or two from now? However, if you have a few extra bucks you can jump to the next category and get a solid wood guitar on both the back and top.
---
Now for Solid top & Solid Back and Sides!
Cordoba C9 Classical Guitar $800-1000 (TOP MARKS) – Now you get Solid Top & Solid Back and Sides
If you have the money you can get a guitar that will help you play and have much more subtly in terms of musical expression. Solid Canadian cedar top with solid mahogany back and sides. Having solid wood on both the top, back, and sides means way more sustain and a way nicer sound.
Cordoba C9 Parlor Classical Guitar (TOP MARKS)
As with the above this guitar will really give you a boost. However, the nice parlor size will be much more comfortable. This is a small scale guitar 630mm (compared to the average 650mm). See my full video review of the Cordoba C9 Parlor.
Cordoba C10 Classical Guitar (TOP MARKS)
Yet another step up but this one has Solid Canadian cedar top & better yet Solid Indian rosewood back and sides. Hand inlaid Mother-of-Pearl "Esteso" Rosette. Indian rosewood bridge with ebony fingerboard. Includes Cordoba Polyfoam case. This is about as good as it gets until you make the leap to a totally different price range and custom luthier builds. Highly recommended if you plan to stick with guitar. Also the small scale Cordoba C10 Parlor. See my full video review of the Cordoba C10 Guitar or the Cordoba C10 Parlor Guitar.
Cordoba c12 Classical Guitar $1600-$2000 (TOP MARKS)
All the goodies, maybe the best factory affordable guitar I've seen. Modern design elements also include a lattice braced top and raised fingerboard for easy playability when accessing upper frets. It's wonderfully loud and balanced. It can keep up to luthier made guitars minus some tone. If you are young concert player or just want a high quality instrument for an affordable price buy this. See my full video review of the C12 Cordoba Guitar.
Recommended Small (half and three-quarter size) Classical Guitars for Beginners:
These guitars are for kids (or small adults).
Cordoba Requinto 580 1/2 Size Acoustic Nylon String Classical Guitar – $250-350 (TOP MARKS)
It would be great if all kids could start on a guitar that actually helps them sound good. This would be that guitar. Depends on whether your kid is the "smash and bang" type as you don't want it to get too damaged for resale when they grow out of it. Still, best pick for sure.
Cordoba Guitars Cadete Acoustic Nylon String Classical Guitar, 3/4 Size $200-300
As above. Spruce top with mahogany back and sides
Cordoba Dolce 7/8 Size Acoustic Nylon String Classical Guitar – $250-350 (TOP MARKS)
As above. Solid Canadian cedar top. Mahogany back and sides. The cedar will be a bit warmer so this is a good choice overall.
Yamaha CGS102A (in 1/2 and 3/4 or full) – $120-160
Yamaha's are built well and I've never been disappointed. They are an amazing deal for the money.