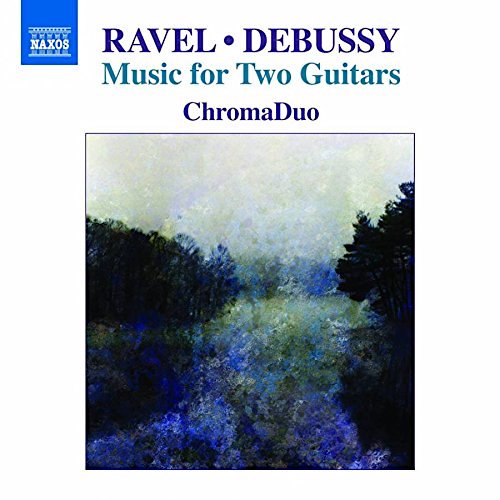 Ravel & Debussy: Music for Two Guitars
by ChromaDuo (Rob MacDonald Tracy Anne Smith)
Website: chromaduo.com
Label: Naxos
Producers: Norbert Kraft & Bonnie Silver
Listen to Samples: chromaduo.com/sounds
Buy the Album via Amazon: Ravel & Dubussy by ChromaDuo
Naxos Promo Blurb: "This album is the first to present an entire programme of works by Debussy and Ravel, the greatest exponents of Impressionism in music, transcribed for two guitars. The arrangements bring new life to the rich canvas of sonorities and complex harmonies in these popular works. The reflective atmosphere in Debussy's famous Clair de lune and special upper-harmonic effects in La plus que lente contrast with the 'merry romp' of the Golliwog's Cakewalk and Ravel's nod to Schubert in the Valses nobles et sentimentales."
Repertoire / Track List
Alborada del gracioso (1905) by Ravel (arr. Stephen Goss)
Children's Corner (1908) by Debussy
Clair de lune (1890) by Debussy
Valses nobles et sentimentales (1911) by Ravel
La plus que lente (1910) by Debussy
Deux arabesques (1888–91) by Debussy
I was very pleased to receive a copy of ChromaDuo's new album from Naxos. Not only are Rob MacDonald and Tracy Anne Smith two of my favourite players but Ravel and Debussy are such great composers. All the music was arranged by ChromaDuo except for one by UK composer Stephen Goss who has previously composed for the duo. Maurice Ravel (1875–1937) and Claude Debussy (1862–1918) never wrote for guitar but guitarists love to arrange their music. So the question is: why listen to guitar arrangements when you can hear the original instrumentation? Well, first off I have a soft spot for this music on guitar as it lends a gentle and bell-like clarity to the works. Yes, you'll miss out on some of the lush textures of sustained piano or the amazing orchestrated versions but you can also gain something from the sound of finger-contact on the string. Plus, being arranged for two guitars, compared to solo guitar, helps to retain some of the rich harmonies and sustain needed to fulfill the artistic intent of the works. It's easy to criticize arrangements but I'm hard-pressed to find fault in this high quality performance. I think you're better off to hear the advantages of these arrangements rather than to compare it to original instrumentation. Also, one should note that both Debussy and Ravel were no strangers to arranging their piano works after the fact; sometimes years down the road so it's no sin! The liner notes, available here via Naxos, have a great historical write up by Graham Wade which will give a far better historical overview than I can provide. It's worth the read and will give a general idea of the significance of the works and composers on this album. The quote from Bream sums up the arranging intent, at least for him: "In an editorial introduction Bream commented: The timbre of the guitar is sympathetic to the delicacy of [Debussy's] expression and to many subtle gradations of dynamics and tone colour which are so compellingly effective in these works."
My biggest worry when hearing guitar arrangements is: will the arranging be distracting to the musical content/intent? Well, not here. The arrangements presented are thoughtful and successful. Most importantly, the arranging is unnoticeable with the ensemble sounding as one rather than trading off roles as to create ensemble interest where none exists. The melodic work is clear and focused while the blended chords and arpeggios are smooth and expansive. ChromaDuo's pacing is patient and expressive but still directional in their phrasing. The opening of Clair de lune is lovely and peaceful, bringing to mind images of raindrops on a serene lake. Top notch ensemble work, always together and always in agreement. I often forgot I was listening to two guitars! The blending of their sound is very convincing. The orchestration on guitars is tasteful throughout including a beautiful effect of drifting away into high harmonics in La plus que lente. The extroverted nature of some of the rasgueados is a welcome break from the softer textures in Alborada del gracioso. The Spanish influence in this work fits so nicely on the guitar with the strumming effects being fully realized.
The sound quality on this album, as expected from Naxos, is magical. The famous venue & producers did another fantastic job. The guitars sound warm and bell-like but with the clarity needed for classical guitar. There are no proximity problems and it's quite 'live' sounding. This is the sound I personally prefer for the instrument on recordings. Some might find it more 'live' than expected but it's never unclear and the hall reverberation is very pleasing.
Conclusion
Ravel & Debussy: Music for Two Guitars by ChromaDuo combines brilliant musical performances, excellent arranging, and the magical recording sound we've come to expect from Naxos. Rob MacDonald and Tracy Anne Smith's musical phrasing and shaping are incredibly intertwined. Their sound is so perfectly blended that I can't imagine hearing a better ensemble. Guitar arrangements are easy to criticize but listen to this album to be convinced of the wonderful possibilities that exist from two guitars. Highly recommend.
– Bradford Werner (thisisclassicalguitar.com)