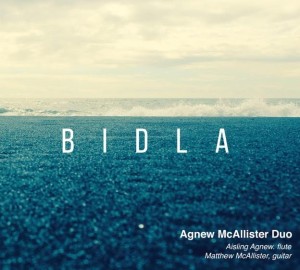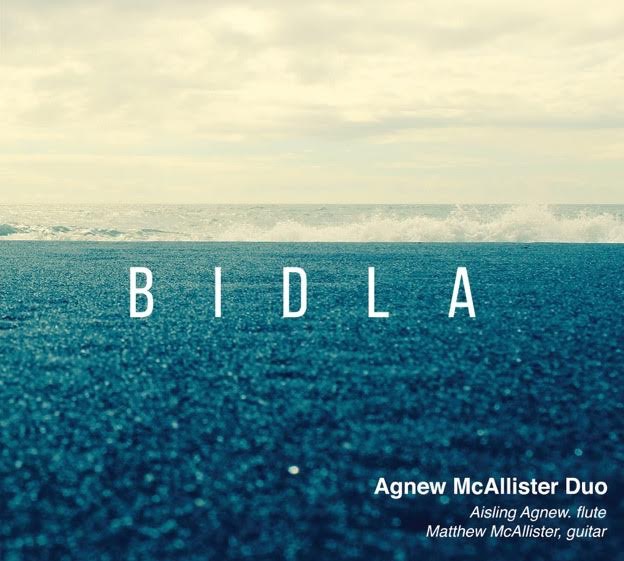 Bidla – Agnew McAllister Duo
Aisling Agnew (Flute), Matthew McAllister (Guitar)
Artist Websites: agnewmcallisterduo.com, matthewmcallister.com, aislingagnew.com
Release Date: June 15, 2015
Editor, Producer, Artwork: Uros Baric
In Collaboration with Baros Records
Buy or Listen to Samples: Bidla on Amazon
Repertoire:
Sonata in G Major by Pietro Locatelli (1695-1764)
Sarabande Op.179 by Francis Poulenc (1899-1963)
Un Joueur de flûte berce les ruines by Francis Poulenc (1899-1963)
Krynica & Un ange by Sébastien Vachez (b.1973)
Wens by Véronique Vella (b.1979)
Bidla by Véronique Vella (b.1979)
Air by Toru Takemitsu (1930-1996)
The Uses of Not by Greg Caffrey (b.1963)
Sivi Grivi by Alan Thomas (b.1967)
Bidla is the second album from the Agnew McAllister Duo and features duo transcriptions, solos, and newly commissioned works for flute and guitar. Irish flautist Aisling Agnew and Scottish guitarist Matthew McAllister have over 15 years experience of performing together and are both excellent artists so it's no surprise that the album sounds great. I had the chance to meet McAllister a few years back when he was adjudicating in Victoria. He is one of nicest people I've met and inspired my students as well as demonstrated some beautiful playing.
The album opens with the transcription of Italian baroque composer Pietro Locatelli's Sonata in G. Locatelli (1695-1764) was a virtuoso violinist and composer and likely influenced by Arcangelo Corelli. The 12 Flute Sonatas were published in 1732 and written for flute and continuo. There is a wealth of these kind of works from the Baroque era just waiting for guitar transcription. They just need a tasteful and light harmonization of the bass line. McAllister adds some extra motivic touches here and there which sound great. Beautiful playing by both musicians. The wonderful phrasing and sustain of the flute with the guitar make for a great combo. The guitar is nice and light like a harpsichord but with a more bell-like sound. Much better combo than flute with modern keyboard crashing about or mudding up the texture. Excellent energy, ornaments, and articulations from McAllister. The pretty third movement and the final Allegro have all the best elements I love from Baroque chamber music.
French composer and pianist Francis Poulenc (1899-1963) is well known as a member of the Les Six composers who moved away from the then-dominant styles of Wagner and the so-called impressionist composers. Composer Lennox Berkeley wrote of Poulenc, "All through his life, he was content to use conventional harmony, but his use of it was so individual, so immediately recognizable as his own, that it gave his music freshness and validity." The beautiful Sarabande (1959) for solo guitar was dedicated to the French guitarist Ida Presti and makes simple but effective use of the guitar's open strings allowing the instrument to sustain appropriately. Un Joueur de flûte berce les ruines is a pretty work by Poulenc for solo flute. Agnew pulls this off with ease and has especially nice phrase endings and breath control. I like these two little solo works included on their duo album, you get a taste of each player before going back to ensemble works.
Krynica & Un ange by Sébastien Vachez (b.1973) is a natural choice to follow up the Poulenc with its French leanings and peaceful writing. Krynica is part of a trilogy for solo guitar called Trois pièces brèves. As the liner notes state, "In this recording, Krynica is played as an introduction to a piece for flute and guitar called Un ange which is the second movement of La ballade d'Irina written in a style close to the French impressionism." Excellent playing by McAllister in Krynica. He is a very thoughtful and expressive player and this work highlights his capabilities.
Wens by Véronique Vella (b.1979) was commissioned by Aisling Agnew, who gave the première of the work in September 2009 in Scotland. Wens uses many extended techniques for flute which create interesting textures and percussive sounds. In a small way this work prepares us for the sound-world of Takemitsu two tracks latter. However, this work is a bit more playful and exploratory compared to the spacious and focused Takemitsu.
The title track Bidla by Vella was commissioned by the Agnew McAllister Duo in 2011 and has been performed extensively by the duo since its première in Scotland. Bilda, the Maltese word for change, is well chosen for the many twists and turns in the work. More from the liner notes, "Like many of Vella's works Bidla features varying changes in mood and tempo. It is the first and only piece she has written for guitar. Pianist and composer Veronique Vella obtained her PhD from Edinburgh Napier University in 2008 and is the first Maltese woman to be awarded a doctorate in music composition." This is likely the most challenging work in terms of form and requirements that are out of the ordinary but the composition does hold its own. General listeners will find it easy to follow the 'groove' despite all the changes in tempo and mood.
Japanese composer Toru Takemitsu (1930-1996) is well known in the history books and you might be aware that he wrote a significant amount of music for guitar including solo works, chamber music, and arrangements. If you've ever played some you will not have forgotten as it's pretty challening to play. The mix of Western classical music and the sounds of traditional Eastern instruments usually requires some extra technique and musical maturity to navigate of the spacious soundscapes and extremely focused musical lines. "Air for solo flute is Takemitsu's last completed work. The piece contains few contemporary techniques but is marked by a four-note theme which echoes throughout the work, creating a haunting impression and a feeling of timelessness." Very effective playing by Agnew who pulls off the few extended techniques nicely and guides us through the meditative abyss.
A significantly larger work on the album is The Uses of Not by Greg Caffrey (b.1963) which is the third of four works he's written for flute and guitar. This haunting and mysterious work is the most colourful on the album. The motivic exploration unfolds bit by bit and never tires of the journey. The listener gets worked up into the occasional frenzy but the work continually releases the tension before moving on. It's an intriguing work but does keep one's attention. Some very difficult playing for both Agnew and McAllister but they execute it cleanly and with focused forward momentum.
Sivi Grivi by Alan Thomas (b.1967) is the final track. As the composer explains in the notes, "Sivi grivi (Gray mane) is based on a dance from the Pirin region of Bulgaria…Typical of the region, the piece employs an asymmetrical meter (7/8 in this case), and has a largely stepwise diatonic melody featuring the exotic sounding augmented 2nd interval." With some beautiful opening themes the work then turns to more lively and exciting material which functions nicely as an encore for the album. The duo has a video for this work from last year which gives you an idea. Make sure to watch the whole thing!
Conclusion: From Baroque flair to modern soundscapes the Agnew McAllister Duo deliver virtuosity, beauty, and solid musicianship making Bidla a top ensemble pick for 2015. The recording quality is excellent and the mix of old and new, solo and duo, is surprisingly easy to take in. All the new music will interest aficionados but general listeners will find everything listenable and melodic. The duo's biggest strength is their sensible musicianship. They are always expressive and natural sounding adding showiness only where it's needed. I get annoyed with the trend of macho guitar playing these days but McAllister is always using his ear and delivers exactly what the composition needs. Bravo.
Artist Websites: agnewmcallisterduo.com, matthewmcallister.com, aislingagnew.com
Buy or Listen to Samples: Bidla on Amazon