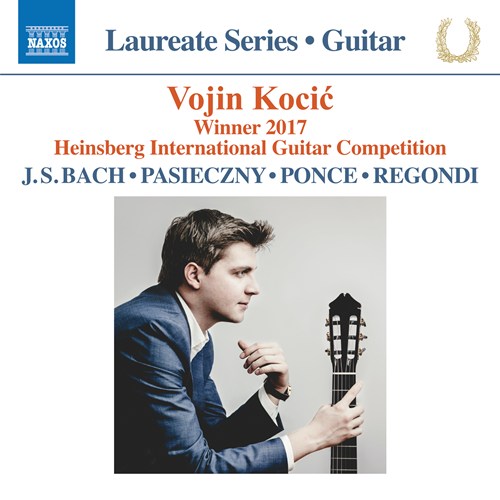 Guitar Recital by Vojin Kocić
Naxos Records 2019
Artist Website
Buy/Listen via iTunes, Amazon, Naxos, Spotify, et al.
I've been really enjoying this new release by the amazing Swiss guitarist Vojin Kocić. Main highlights on the album include two of the great works one could choose to perform. The first is a wonderful performance of the D Minor Violin Partita BWV 1004 by Bach. With clean, elegant playing Kocić delivers a rhythmic and musically rich performance. I was particularly impressed with the balance between straight forward presentation and pleasant musical phrasing. The chaconne is perfectly paced throughout; very graceful but never overindulgent. Just the kind of musicality I enjoy. The other monumental work is the 30min La Folia variations by Ponce. Kocić navigates this epic and difficult work with ease. His musical lines always have great separation, clear articulations, and a lush sound for all the thick harmonic language which can be very tricky on guitar. Also of note are the excellent performances of Regondi and Pasieczny. The Pasieczny displays a broader sense of Kocić's ability to combine clear presentation and colourful playing within a more modern soundscape texture.
Summary – Guitar Recital by Vojin Kocić is an album filled with elegance, musicality, and virtuosity. Some of the greatest musical works are performed with amazing clarity and sensible musical playing. One of the best new guitar albums I've heard in a long time. Beautiful! – Bradford Werner (thisisclassicalguitar.com)
Promotional Text: "Vojin Kocic, winner of the 2017 Heinsberg International Guitar Competition, presents a recital that not only covers a wide historical range but also includes some of the most challenging works in the guitar repertoire, of which Ponce's La Folia variations is considered a veritable Everest to be conquered. Following a long and distinguished tradition, Kocic's own arrangement of Bach's Second Violin Partita is crowned by the greatest of Baroque instrumental masterpieces, the monumental Ciaccona, Regondi's prodigious talent is reflected in his scintillating Introduction et Caprice, while Pasieczny's Phosphenes was composed as a test piece for a guitar competition."
Track List
Johann Sebastian Bach (1685-1750): Violin Partita No. 2 in D Minor, BWV 1004 (Arr. V. Kočić for Guitar)
Giulio Regondi (1823–1872): Introduction & Caprice, Op. 23
Manuel Ponce (1882-1948): Diferencias Sobre la Folía de España y Fuga
Marek Pasieczny: Phosphenes